The Office Spin-Off The Farm Casts Dwight Schrute's Brother Jeb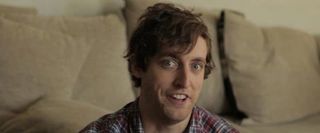 The Office may be closing its doors for good after next season, but the Scranton-set story may continue in spin-off form, should things work out for The Farm, a project in development that will focus on Dwight Schrute's family beet farm. Another one of the Schrute's has been cast!
A week ago, we shared the news that Roswell's Majandra Delfino had been cast in the role of Dwight's sister Fannie in The Farm. And this week, according to THR Thomas Middleditch has also signed on. The actor, whose credits include a number of CollegeHumor Originals, in addition to an appearance in The Campaign, has signed on to play Jeb Schrute, a laid back kind of guy who's motivated but lacks follow-through. Jeb's tried a number of different careers (big foot hunting and worm farming among them), but word is, he's had more success running a pot farm in California. Perhaps Dwight will be able to give him the push he needs to contribute at Schrute Farms. Beets are the ultimate cash crop… right?
Right now, the project is just in the pilot phase, and from what we've heard, NBC won't decide on whether or not to greenlight it to series until the characters are introduced in an episode of The Office at some point in Season 9. With The Office set to end after the upcoming season, The Farm may be the only chance for Dwight Schrute (and possibly a Dunder MIfflin guest star or two once in a while?) to live on.
Your Daily Blend of Entertainment News