The Ohio State And Oregon Game Delivered Incredible Ratings, Of Course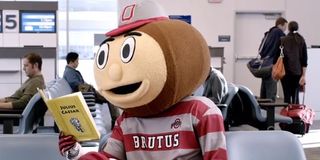 After the College Football Playoff semi-finals crushed in the ratings last week, most people were expecting a huge turnout this week, when Ohio State squared off against the University of Oregon for the National Championship. ESPN nabbed an 18.5 overnight rating for the big game. That's up a good chunk from the two semifinal games last Monday, which nabbed 15.5 and 15.3 ratings, respectively, and the numbers are much higher when compared to the old school BCS Championship Game last season.
According to ESPN, at its peak, the Ohio State v. Oregon game did a 20.5 rating, which is pretty incredible to think about. The Ohio metered markets were absolutely dominant last night, taking the first, second and third places Columbus pulling in a 51.2 rating, Dayton nabbing a 43.8 rating and Cleveland holding on to a 41.3. Portland, Oregon came in fourth overall with a 36.1 rating. Rounding out the top 10 markets were Birmingham, Cincinnati, Jacksonville, Knoxville, Greenville and Atlanta.
Fans of College Football have been clamoring for a playoff style format for years, mostly because of arguments concerning whether or not the right two teams would end up playing in the BCS Championship each year. The old system was finally replaced this year by a selection committee that picked four teams to square off in a playoff format. The finalists were Alabama, Oregon, Florida State and Ohio State. OSU's inclusion at the expense of TCU generated quite a bit of controversy at the time, but the team's dominance in both games has quieted most of the concerns. In fact, the response to the playoff has been extremely positive. Because of how positive it has been, there's a distinct chance we'll see the system change again moving forward.
That's right. While fans have loudly shouted for a playoff for years, what many have actually been shouting for is an eight-team playoff. That would almost completely eliminate any talk of the best team not being included, and given these ratings, it would most certainly be a cash cow for the entire system. Fans love elimination- style formats because they leave no doubt in anyone's minds regarding who is the best. Plus, with more teams there is always the added ability to fill out a playoff bracket. The decision makers around college football have scoffed at the idea of expanding the format, but President Obama even said in a recent interview that he thought the number would eventually grow to 8.
Regardless, it's nice to see fans enjoyed last night's National Championship Game, and while it didn't end up being the closest of results (42-20 Ohio State), it was still extremely exciting, especially during the first half that saw numerous turnovers and strange plays.
Reality TV fan with a pinch of Disney fairy dust thrown in. Theme park junkie. If you've created a rom-com I've probably watched it.
Your Daily Blend of Entertainment News
Thank you for signing up to CinemaBlend. You will receive a verification email shortly.
There was a problem. Please refresh the page and try again.