Rihanna Slams NFL For Thursday Night Football Treatment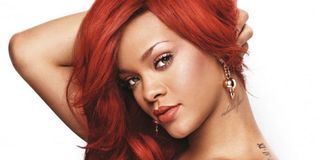 The last couple of weeks have been a PR nightmare for the NFL, following the lengthy spotlight on player Ray Rice after a tape was released showing aggravated assault against his now-wife. The NFL later pulled singer Rihanna from the intro to its Thursday Night Football schedule last week, with various outlets connecting the pulled intro with the fact that the singer has been the victim of domestic abuse, as well. Instead of quieting things down, pulling Rihanna from the opening sequence stirred the pot, and now the "We Found Love" singer is speaking out about her treatment by the NFL.
In a tweet on Tuesday, Rihanna chastised CBS, the network that airs Thursday Night Football, for pulling her in order to talk about the Ray Rice scandal last week, only to return her to the schedule this week. She calls them out for connecting her circumstances with those of a football player who hit his wife on an elevator.
The whole thing is a mess. Last week, CBS Sports said it would be pulling this season's intro, which featured Rihanna singing and a voiceover from Don Cheadle. In its place, CBS played "newly created" Thursday Night Football theme music. Now it sounds like CBS backtracked, attempting to put together the originally planned Rihanna intro this week, which led the singer to take to Twitter to voice her displeasure.
More than five years ago, Rihanna was in a relationship with singer Chris Brown that parallels Ray Rice's relationship with Janay Palmer. In 2009, the singer canceled an appearance at that year's Grammys after getting beaten up by Brown. He was later arrested and charged for the assault, but a few years later, Rihanna actually dated Brown, again. Earlier this year, video surfaced of Ray Rice dragging his then fiancee's unconscious body out of an elevator. He was quickly surrounded by security and arrested. Local prosecutors wound up giving him a slap on the wrist, as did the NFL when it suspended him for 2 games. After more security footage of him punching her in the face and allegedly spitting on her emerged, however, the public outcry forced the NFL to backtrack and suspend him indefinitely.
Potentially worried about bad press or just wanting a forum to talk about domestic violence, CBS pulled Rihanna's intro last week. Was it because of her parallel situation? Was it because the network simply wanted more time to talk about the Ray Rice fiasco? We don't know, but clearly, Rihanna thinks it's because of her history.
Whatever the reason, CBS announced on Tuesday that it will no longer be using Rihanna's "Run This Town" in the opening, at all.
Amazing Race & Top Chef superfan with a pinch of Disney fairy dust thrown in. If you've created a rom-com I've probably watched it.
Your Daily Blend of Entertainment News
Thank you for signing up to CinemaBlend. You will receive a verification email shortly.
There was a problem. Please refresh the page and try again.