5 Things The League Taught Us About Fantasy Football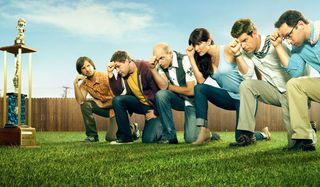 The League has been a part of FX Networks for six seasons, weathering years of draft picks, a possible NFL Shutdown, and a move from parent network FX to FXX. It's hard to believe a fantasy football league might run for so long, but The League isn't without the occasional problem. Petty antics and poor decision-making have plagued the league over the years, but despite this, the team is still going strong and provides constant merriment and amusement each week. With the six season premiere headed onto the FXX schedule tonight, we sat down and thought about all of the fantasy football lessons The League has taught us. We feel we've come up with a pretty good list, but if there's anything additional you've learned from The League, feel free to let us know in the comments, below.
Prompt Trades
Trades must be made promptly, even under shady circumstances. Andre learned this in a memorable Season 3 episode when he was pulled over by a cop while texting and driving, attempting to make a last minute trade. " He then further angered the police by asking whether he should start Jabar Gaffney or Lance Moore. (Also, be careful who you ask for fantasy football advice. Those angered cops offered helpful hints like, "Jabar sounds like a wizard to me.") In another funny ep, Kevin makes a trade right after his colonoscopy. No matter what the cost, true winners make trades happen.
Have A Trophy
Trophy traditions are of paramount importance in a fantasy football league. The League has what may be the creepiest trophy ever. The Shiva is an homage to a woman the friends went to high school with, as well as a symbol of success at the end of each season. She's a glorious but inappropriate tribute to a beautiful woman who neither asks for it, nor wants it. Still, that seems to be what The League is telling us about fantasy football. Leagues should be founded on camaraderie, inside jokes and shared memories, and if they are not, it's fun to create your own traditions along the way.
Never Cheat On Your Team
Never cheat on your wife with a fantasy football analyst. Kevin learned this the hard way when he met fantasy football guru Matthew Berry at a bar. The two talked football, thanks to Kevin being horrible at Fantasy Football and needing whatever advice he could get. However, he then had to learn the secrets of lying from Ruxin in order to hide the fact that he cheated on his wife's advice. It's not just wives fantasy footballers should be concerned with. Avoiding outsiders (like Raffi) and keeping league business within the league is probably the soundest advice anyone could ever get.
Avoid Draft Disasters
Always play fair when it comes to the draft. Don't distract your teammates with a porno in an apartment, and certainly don't lock them out so they are stuck with an auto draft and too many hurt feelings to trade. Don't draft during a wedding weekend and don't put bets on your child's name. Do what you can to keep a cool head and the fantasy football league will become a better place. It's common courtesy, people.
Only First And Last Matter
In the league, the only positions that matter are first and last place. The guys and Kate have devised a whole series of trophies, perks and punishments meant to exhilarate and humiliate the winners and losers. Second place doesn't matter. Third place is a sham, and so on and so forth. Fantasy football leagues are more effective when they are competitive, and The League has made this apparent time and time again.
No doubt many viewers of FXX's hit comedy have been a part of their own fantasy leagues in the past. Perhaps the lessons on The League are ones that are already well-known in the fantasy community. What's clear, though, is that going into Season 6 The League is an offbeat and hilarious comedy that offers viewers plenty of reasons to watch. Whether its for the life lessons, the dong jokes, or even the many celebrity cameos, we're very happy that The League is back. Catch the comedy when it hits the schedule tonight at 10 p.m. ET.
Reality TV fan with a pinch of Disney fairy dust thrown in. Theme park junkie. If you've created a rom-com I've probably watched it.
Your Daily Blend of Entertainment News
Thank you for signing up to CinemaBlend. You will receive a verification email shortly.
There was a problem. Please refresh the page and try again.