The Originals Episode 22 Preview: The Finale Promises A Cradle And A Grave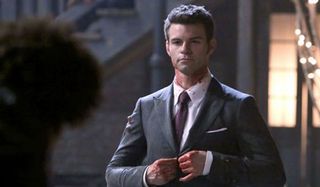 As always, there are spoilers from last night's episode in the paragraphs, below! Read on only if you caught last night's episode!
The Originals, like its CW counterpart The Vampire Diaries, has always been fond of plots with more twists and turns than the average tornado. This partially seems to be due to the fast-paced nature of The Originals' narrative and partially seems to be due to the show's lengthy, full season episode order. It's hard to fill 22 episode about a slew of vampires, werewolves and witches. Plus, since the "ruling" of New Orleans is central to the plot in The Originals, it's only fitting that the constant plot twists are related to matters of control. At this point, there's little time to wrap everything up. Next week is The Originals' big Season 1 finale, and not surprisingly, the preview for the episode seems to promise an explosive one.
Unlike most of the previews we have gotten for The Originals this season, next week's look at "From A Cradle To A Grave" is lacking in the witty dialogue we have come to expect from Klaus, Marcel and Elijah. Instead, the trailer is surprisingly emotional, filled with music and shots of the gang going through several life-changing events. As the title notes, the episode should feature the themes of birth and death.
I think we can all agree that Haley and Elijah's kiss was the crowning moment from last week's episode, but there is clearly trouble coming to NOLA. There were a lot of really strange werewolf twists during the episode, and wolves seemed to be biting the vamps left and right. Plus, Marcel and Klaus finally got into a battle involving their hands instead of words. The action was pretty satisfying, but the Haley and Elijah story has been teased all season and there has been far too little kissing for an epic TV love story. (I wish Shatner had live tweeted that episode.)
Which brings us to the finale. Haley's been pregnant since the fall, and it's about time for her to birth her hybrid baby. We won't have to wait until next season to find out whether her kid is a cutie or the kind of baby that forces people to lie to parents about his or her looks. If you want a sneak peek of the kiddo, you should really check out the preview. Also, you should check out the preview for the following reasons. First, there's a scene where Elijah gets blood all over his finely tailored suit. There's a second scene where Marcel is dotted with blood and a third where Klaus seems to be forced against a wall and angry. His growl is practically the only dialogue we get in this sucker. Basically, there's a lot to look forward to, and since The Originals is definitely getting a second season, let's hope the writers put some finesse into the last episode.
You can catch new episodes of the CW's The Originals on Tuesday nights at 8 p.m. ET. Recent episodes are also available online.
Reality TV fan with a pinch of Disney fairy dust thrown in. Theme park junkie. If you've created a rom-com I've probably watched it.
Your Daily Blend of Entertainment News
Thank you for signing up to CinemaBlend. You will receive a verification email shortly.
There was a problem. Please refresh the page and try again.