Outlander Trailers Tease Episode 2 And The Weeks Ahead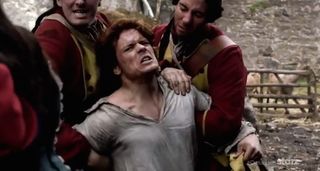 Claire Randall is in trouble. The same would be the case for just about anyone who found themselves thrown through time to 18th century Scotland. There are a lot of things that can go wrong in a time travel scenario, and Starz's Outlander has the opportunity to explore a lot of them. The above preview gives us a look at next Saturday's episode, "Castle Leoch."
With the shock of Claire's sudden arrival settling in, it looks like people are starting to ask questions about who she is, where she came from and what she wants. And this may put Claire in a bad situation, as the English aren't exactly super welcome to the locals in this time period. Starz released the above preview for "Castle Leoch," the second episode of Outlander's first season. Not only does it show Claire being questioned about her origins, but we also see Jamie Fraser being treated rather brutally.
And we get a peek at Lotte Verbeek, who's making her first appearance in Episode 2 in the role of Geillis Duncan...
Starz also released this video, which takes a look at the what's ahead this season...
Starz has the first season split up into two parts, with the first eight episodes airing this summer, and the second half airing sometime next year. I'm thinking what we're seeing above applies mostly if not entirely to the first half of the season.
The first episode did pretty well for Starz, and hopefully Outlander will continue to build its audience as the first season ensues.
Based on a series of book from Diana Gabaldon, Outlander was adapted by Ronald D. Moore and stars Caitriona Balfe, Sam Heughan, Graham McTavish and Tobias Menzies. Outlander airs Saturday at 9:00 p.m. ET on Starz. Watch the full first episode here.