The Outrageous Role John Stamos Almost Played After Full House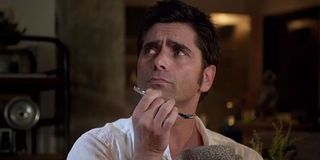 John Stamos has been a name in the Hollywood industry for decades. But despite the number of guest starring and even lead roles in numerous television series, he will always be seen as the bad boy/sweetheart Uncle Jesse from the hit family sitcom Full House. Ironically though, following his 8 years on the fun-loving comedy, he was up for a role that went far outside the PG realm he reveled in. Apparently after the actor's time with Full House was up, critically-acclaimed TV writer and director Ryan Murphy tried to get John Stamos to play a male hooker.
Currently promoting his upcoming Fox comedy, Grandfathered, John Stamos sat down with Details to discuss the actor's time in Hollywood. The conversation shifted from Grandfathered to General Hospital to Full House, but the most outrageous role of Stamos' career was one he came very close to portraying, but unfortunately never played out. When Details asked about the rumor that Ryan Murphy tried to cast Stamos as a prostitute following Full House, Stamos admitted he came close to taking it:
As un-Uncle Jesse as that whole premise sounds, it could potentially make for a pretty hysterical show. And considering it would have come seemingly right after Full House ended, it could have helped John Stamos set himself apart from the family figure that the world still recognizes him as. It sure would have disappointed some of his younger fans, who wouldn't be able to follow his shenanigans, but like Kristen Stewart who went immediately after Twilight to the role as a stripper in an indie flick, it opened her up to some further opportunities.
Another realization is that John Stamos could have held a lead role in the FX award-winning drama Nip/Tuck. The series which centered around two doctors portrayed by Dylan Walsh and Julian McMahon highlighted the events within their controversial plastic surgery center, including everything from your typical "nips and tucks" to more exotic plastic surgery procedures. All the while the two doctors are surrounded by beautiful women… and the implications that come with it.
John Stamos may have missed out on a couple prime opportunities back in the day, but the actor is still enjoying his image as Uncle Jesse. So much so, that he is set to return as the slick-haired uncle in a reboot of the series. Fuller House won't see Uncle Jesse in his original starring role, but we're sure he'll still have the opportunity to show off all the best of his character traits. Fuller House is set to premiere on Netflix in January 2016.
Your Daily Blend of Entertainment News
Thank you for signing up to CinemaBlend. You will receive a verification email shortly.
There was a problem. Please refresh the page and try again.