John Stamos Revisited The Full House Home And Went Unnoticed In Hilarious Photo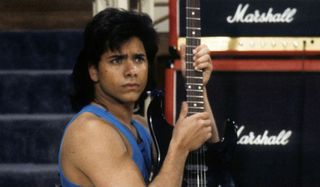 If you're enough of a fan to visit the set of a cult-classic TV show, than odds are you are pretty familiar with the cast. But, it turns out, some actors are just really good at hiding in plain sight. How else could you explain a bunch of Full House fans completely unfazed by John Stamos revisiting his old stomping ground? The star of the TV series goes completely unnoticed by fans visiting the Full House home. So of course he had to capture the bizarre moment.
We still are completely flabbergasted that Stamos went unnoticed. Yes, he is wearing a hat and shades, but he still looks so Stamos-ish in this Instagram photo. The group of oblivious fans missed out on what would've been the selfie for the ages with good ol' Uncle Jesse. But it was all in good fun, as Stamos' caption notes, "Boy these youngsters have 0.0 idea what they're missing #Fullhousehouse #TURNAROUND".
Stamos was in San Francisco revisiting the home where the hit '80s and '90s ABC TV show took place. The sitcom, which ended in 1995 has become a classic for all ages, and although it was a prime target for 90s kids, it exists beyond its time, with younger generations enjoy reruns. Stamos points out the obvious youth of these onlooking fans, but as someone has completely walked by huge celebrities without even looking up and noticing, I can tell you, it's pretty easy to miss when you're not paying attention. Though, if you're at the Tanner family residence, you would think being in the Full House mindset would open up your eyes to certain celebrity encounters.
Stamos isn't the only Full House star to visit the now famous house. Back in 2013, Bob Saget stopped and couldn't resist a quick photo in front of his character's homestead. He took a photo on his WhoSay account.
Stamos and Saget's visits back to the set of their beloved TV classic is just a reminder of how iconic the show has become. To Full House fans everywhere, a trip to San Francisco is accompanied by a quick peek at the house in Lower Pacific Heights. The lessons learned from Danny Tanner, Uncle Jesse and Joey in raising three young girls were good-hearted and always fun. There has been word of a potential Full House return over the last year or so, and a few cast members are actively trying to push it into fruition. No network had yet picked up the series last time we checked, but a new version was being scripted, so only time will tell.
Your Daily Blend of Entertainment News
Thank you for signing up to CinemaBlend. You will receive a verification email shortly.
There was a problem. Please refresh the page and try again.