Oxygen Buys Glee Syndication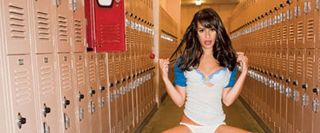 A good show will cost a lot to syndicate whereas a lesser show will be cheaper. This is why The Sopranos costs A&E 2.5 million an episode to run and The Mentalist just sold to TNT for 2.2 million an episode. Most lesser shows won't even release how little they are being syndicated for. Which is why it is surprising Fox's highly popular show Glee was recently syndicated to Oxygen for $500,000 an episode, according to The Hollywood Reporter.
This may have something to do with Glee Project, which is being produced by Ryan Murphy, who is also the executive producer of Glee. The reality show will also be featured on Oxygen and might be a great way for the channel to make an easy buck riding on the success of its network component. Glee Project will feature people competing for a coveted guest spot on Fox's Glee. For more information, see Kelly's article here.
Currently, the syndication of Glee is only airing sporadically in marathon format. However, the show is set to broadcast regularly by late 2013. Glee Project begins airing this June, in case you need a quick fix to get through the gap between Season 2 and Season 3 of Glee. Food for thought: if Glee, which is averaging 9.8 million viewers an episode, only managed to pull in 500K a pop, god only knows how little ABC Family had to pay for Friday Night Lights.
Your Daily Blend of Entertainment News
Thank you for signing up to CinemaBlend. You will receive a verification email shortly.
There was a problem. Please refresh the page and try again.