Parks And Recreation's Mouse Rat Performance Compilation (Yes, Andy's Band)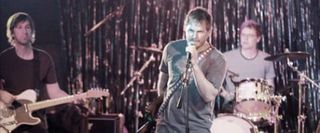 After a sluggish start for its six-episode first season (similar to its cohort, The Office), NBC's Parks and Recreation has blossomed into one of the best sitcoms on TV. It started to pick up during the second and then really came into its own last season, especially with the addition of Rob Lowe and Adam Scott (who's amazing in everything...watch Party Down, people). However, one of my favorite Pawneeans (?), rocker/shoe shiner Andy Dwyer, has been around since day one, and now, we finally get a collection of his greatest hits...uh, his band's greatest hits, that is.
If I'm not mistaken (and I never am), Chris Pratt's Andy Dwyer was only supposed to be on the show briefly, just over one season, before fading into the sunset. All through the first season Pratt is credited as a guest star, but luckily for us, series co-creators Michael Schur and Greg Daniels just couldn't let him go and made him a regular come Season 2. One of the bonuses of having Andy around is getting to watch his band perform.
Whether you know them by their current name, Mouse Rat, or maybe caught a show back when they were Scarecrow Boat, Fourskin (which became Fiveskin and then Threeskin), or Department of Homeland Obscurity, they always come to play. Check out their website to see some of the other hilarious names the band has gone by since their inception, and then rock out to this Mouse Rat compilation.
Parks and Recreation will return this fall, Thursdays at 9:30 p.m. ET on NBC.
Your Daily Blend of Entertainment News