Parks & Recreation Watch: Season 4, Episode 14 - Operation Ann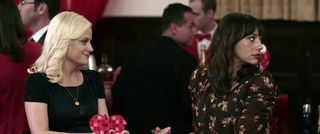 The second Valentine's Day episode of Parks and Rec is just as good as the first and reveals a lot of fun traits we never knew about Pawnee's cast of characters.
Leslie has set up a giant scavenger hunt for Ben to discover her meeting place for their Valentine's Day night out, luckily this was planned out weeks in advance. Leslie discovers at Galentine's Day that Ann is in need of some much needed romance, and being the friend that she is, Leslie recruits everyone to bring a potential suitor for Ann at the Valentine's Day Dance. As we get to watch that drama unfold at the saddest dance ever, Ben, Ron, and Andy attempt to figure out Leslie's epic scavenger hunt.
At the dance, a still depressed Chris (from last week's break up) is "DJ'ing" the party, and the event couldn't be more of a downer. Seeing Ann interact with all the potential dates provides a couple of good laughs to go along with a few new interesting Pawnee citizens, but nothing too terribly exciting takes place. The scene stealer of the dance is April's suitor for Ann, Oren, who is fantastic in his creepiness and it's great to see him smile at Chris' choice of music. Tom trots out a couple interesting characters for Ann, but surprisingly it is Tom that ends up with her at the end of the night. The romance seems to not really be going anywhere at the end of the episode, but planting that seed of possibility in Tom's life could be an interesting wrinkle down the line; especially with Lucy floating around the edges of Pawnee.
Chris' depression is an easy 180 role on the surface, but Rob Lowe gives the part an extra kick that doesn't let the part get stale. The weird moment with Jerry was one of the better bits of the night and the music selection was delightfully terrible. Where did Chris go though when Ben and Leslie thought he was on a date with Ann?
April's appearance this week was mostly for plot mechanics, but the expansion of the character as someone who cares in back to back weeks has to be leading somewhere.
Leslie was her regular earnest self as well this week, trying to constantly round up men for Ann, and while she didn't have a lot to do this week they still worked in a lot of good comedy and one liners for her to make up for it.
The scavenger hunt was my favorite bit of the night though and seeing the glee on Ron's face throughout it all made these scenes priceless. From how the group of Andy, Ron, and Ben actually came together ("Did you try fuck?"), to Ron getting checked out at the gay bar, or the "Party Down" reunion at Pawnee's Snow Globe museum, these are only the tip of what's there to enjoy in this plotline. Ron is the real stand out of the episode though as we discover a side of him we have never seen before; Ron loves scavenger hunts! It's funny to see his cover slowly crumble as things go on and Nick Offerman does a wonderful job at showing this softer, gleeful, side of Mr. Swanson; a couple of great back to back weeks for the mustached man.
Parks and Rec was consistently funny again this week even when it didn't try to move anything in its plot line forward. Instead, this week the show just focused on being funny and expanding a number of characters' depth to levels we didn't know were even there. Even in a mostly one off episode Parks and Rec can still excel at being both funny and driving its characters forward and that is what makes the show so damn enjoyable to come back to week after week.
Bullets:
-Galentine's Day!
-"Dear Congress, it's Leslie again…"
-"Sorry, I was talking to these ribs."
-This is quite the PowerPoint.
-Yachter Otter, I want one.
-Poor Chris.
-Get wet with sound? Yowzers.
-"Have you tried fuck?"
-"Did you try fuck?"
-A hammer? That is one solution.
-Oh, that moment of Ron's excitement. What was that?
-"Please get your gigolo out of here."
-"Needles Slaughter"
-Oren!
-"…Bride makes you dance to 'Single Ladies' on your own."
-"Good God, that woman is good!"
-How did that whipped cream get on Andy's face?
-Chris Cross, stop staring at Jerry like that.
-Pawnee has a Snow Globe museum.
-Party Down reunion, love me some Martin Starr.
-"No Jeff."
-Chris. Worst DJ ever.
-I love Oren.
-Aziz's cousin reference, Harris the Phish fan.
-Ron's glee is fantastic.
-"Most people say 25."
-Chris is dancing!
-Where are the dancing Hamsters?
-"And I love riddles!"
-A Little Sebastian memorial statue? I wish that was real, would be a Parks and Rec fan pilgrimage.
-Tommy! Where did Chris go?
-"Tom's at least semi-cool."
-"White, whatever you are."
-"Like little buuuuuuunnies."
-"I do want that, please do that for me."
Your Daily Blend of Entertainment News
Thank you for signing up to CinemaBlend. You will receive a verification email shortly.
There was a problem. Please refresh the page and try again.