Parks And Recreation Watch: Season 6, Episode 15 - The Wall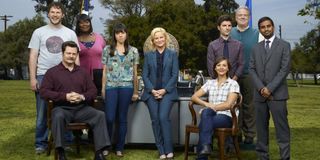 With Ron Swanson's new son, John "Redacted" Swanson, comes one of the best episodes of the season for Parks & Rec.
Continuing this week is the struggle between the citizens of Pawnee and Eagleton as the animosity between the two reaches a fever pitch. Leslie continues to be caught in the middle, but the struggle goes barely anywhere as a misunderstanding at "The Wall" slowly ratchets up the tension. I'm always excited when Jamm gets back into the picture and hopefully he becomes a player in the coming weeks as the voice of zero reason for Pawnee. Leslie gets waylaid out of this story halfway through the episode and the show seems to be setting up a future end game for Mrs. Knope. A bit all over the place, but the A storyline is there this week to slowly turn the season towards the finale. It was functional, but managed to get a couple of laughs in there as well.
Ron Swanson being Ron Swanson was the strongest through line of the night and it was mostly a one man show. Well, one man and a baby. John "Redacted" Swanson's appearance in Ron's life hasn't seemed to change him much, but it brings out the best of him as he tries to show his son the greatest qualities of a Swanson lifestyle. Ron gets a number of great one liners and they throw in a classic Swanson pep talk for Leslie as she decides whether to jump ship to Chicago. I wonder how long we are going to watch Ron fix up the third floor? And when the hell will Lucy Lawless come back?
The last strand of the episode is centered around Tom getting yet another business opportunity, (how many times are we going to go back to this well?) and it gave us some always good moments when he gets together with Ben. Ben and Tom are always a good team, but again the storyline seemed like mostly a set up than actual storytelling. Yeah, it could be a lot of fun to see Tom open up a restaurant, but I wish we got more details about that than seeing Tom and Ben plan a pitch we will never see. Still, nice to see Aziz not get wasted again another week.
An uneventful episode of Parks and Rec still managed to be one the season's funniest. While much of the episode seemed to be setting up story lines that won't pay off for weeks (or maybe even seasons) down the line, but a number of great character beats made the episode work wonderfully. All I know is that John "Redacted" Swanson brings out the best of Ron Swanson.
Random Ramblings:
-"Much like his father, he is a fan of silence. Please keep your voices down."
-"He dislocates his shoulder to the music of Billy Joel."
-Craig continues to grow on me, "I hate it!"s
-Dorkasaurus.
-"The Kool-Aid guy makes it look so easy."
-Pearly Girlys
-Jamm!
-Trodd?
-"He's quite familiar with the sound of power tools."
-"Somebody follow me, I'm distraught."
-"Got a lot of filth on my Kindle."
-"Self-proclaimed dumbass..."
-Leslie isn't leaving, sadly, seems like a good place to end her story.
-"Nothing, clearing the throat."
-Probably opening a door for the end game of the show.
-"Most people in this world are assholes."
Your Daily Blend of Entertainment News