Patrick Dempsey Negotiating To Return To Grey's Anatomy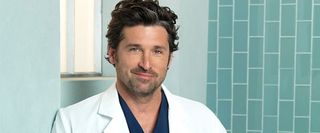 Grey's Anatomy has gone through some cast changes since its inception back in 2005. Luckily, a good percentage of the characters we've grown to love, or love to hate have stuck around over the years. With contracts coming up for many of the hit drama's cast, including Sandra Oh, Patrick Dempsey, and Ellen Pompeo, it's likely we will get word that one or a few doctors are on the way out. ABC has already come out and said the network is confident in another season of Grey's, so at least fans aren't expectant on that point. However, it's sort of touch and go to guess who will stay and who will be leaving.
If anyone had asked me four days ago which doctor would be likeliest to leave Grey's Anatomy, I would have immediately answered Patrick Dempsey. He spoke out last spring about Season 8 (the current season) of the show being his last. However, now it seems he is backtracking a bit. According to People, Dempsey's publicist is saying the actor was referring to his contract being up. I'm not certain how the words "It will be my last. I don't know what will happen with the other characters, but for me, it's done," can be interpreted as referring just to a contract, but since this means possible good news, I'll take it.
Will Dempsey return for Season 9 of Grey's Anatomy? That all seems to depend on whether or not the show will shoot around Dempsey's speedway career.
.
I don't know how rational or easy it would be to work out a contract where Dempsey can skip, hop, and jump off to a race whenever he wants to, but his words sound pretty hopeful that he can work out a deal with ABC.
If I had to put money down, I'd guess Dempsey will be back for next season, but maybe in a more limited capacity. That way, he can get the best of both of the worlds he loves. Then again, I'm the hopeful type. What do you think? Sound off in the comments below.
Your Daily Blend of Entertainment News
Your Daily Blend of Entertainment News
Thank you for signing up to CinemaBlend. You will receive a verification email shortly.
There was a problem. Please refresh the page and try again.