The President Of Ecuador Just Went Off On John Oliver In Hilarious Rant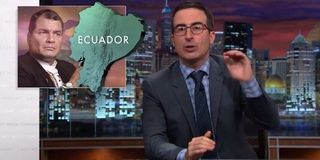 Comedian John Oliver has made some headlines in the past, but none have been quite as entertaining as his latest. The host of Last Week Tonight made his Season 2 return to HBO last Sunday, and let's just say he has opened up a social media firestorm. His latest segment on Rafael Correa notably caught the eye of the Ecuadorian President himself, who went on a massive Twitter rant against the political satirist.
It was in response to some comments Oliver made about the president, calling him too thin-skinned and saying he's focusing too much on what his critics think, that set Correa off. The economist-turned-leader of the Republic of Ecuador came out swinging:
He went on to blast Oliver by saying he makes "too much noise for such little nuts" before suggesting "talk show gringos are more unfriendly than a diuretic." Reading Correa's comments, we couldn't help but laugh at least a little. Part of the chuckles come from imagining Correa actually typing the tweets up himself, and the other part is from him poking fun at Oliver's knowledge of geography (something I've never thought to use as a basis for attack). Not sure whether to picture him laughing or gnashing his teeth as he types, but regardless of the emotion behind Correa's response, Oliver must have really struck a chord to provoke such a rant.
What exactly did the comedian say, you ask? Well, it was in his response to Correa's public reprimanding and shaming of his critics during his weekly addresses that Oliver, who loves talking politics, decided to share a few choice thoughts:
Oliver went on to encourage Correa not to attempt beating down his critics with his proposed Twitter war, citing that nobody has ever won one of those in all of history. He saved his best jokes for the end of the segment, however, where he hilariously referred to the leader as a "Used Jeremy Piven Salesman" before comparing him to one of the Real Housewives husbands. Anyone in their right mind would naturally be offended by the latter part. Oliver didn't stop there, though, closing out the bit strongly, comparing the thin-skinned President of Ecuador to a very unflattering part of the human body. Check out the full clip of the segment here.
Last Week Tonight with John Oliver airs Sunday nights at 11p.m. ET only on HBO.
Your Daily Blend of Entertainment News