Real Housewives Of Beverly Hills Will Re-Edit Out Of Respect For Armstrong Family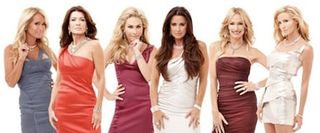 Real Housewives is already a program about a faction of the upper class elite in a given city, and the highs and lows they're subjected to. The cast of franchise series Real Housewives of Beverly Hills has enough drama to fill season after season. The show has been on long enough it may have needed a storyline like a suicide and subsequent lawsuit to earn headlines, but that doesn't mean the show has ended up where producers hoped.
Shortly after being sued and losing his wife, Real Housewives star Taylor Armstrong, husband and side character on the program Russell Armstrong committed suicide on Mulholland Drive. Since then, Russell Armstrong's stepbrother has declared he might sue Real Housewives, faulting the series for his brother's unhappiness and poor marriage. Since the suicide was likely prompted by a business deal gone awry, there has been a field day over the news.
In good taste, Bravo has decided to not highlight the details of Russell's life and the destruction of his marriage to Taylor Armstrong in its upcoming season. Bravo head honcho Frances Berwick confirmed, in a statement to Variety, the show would be re-edited before its fall release. Producers met with the cast this past week to discuss the fate of the upcoming program. There was even some talk of scrapping the season altogether. What has definitely been agreed upon is the Russell-related storylines need to be moved to the back burner.
So far, there is no official indication that the September 5th air date for the new season will be pushed back, althoughTHR has reported the show will be moved back at least one full week. Regardless, the program's decision to go through some heavy editing is the only way the program could maintain any respect.
Your Daily Blend of Entertainment News