Sarah Jessica Parker May Star In Another HBO Show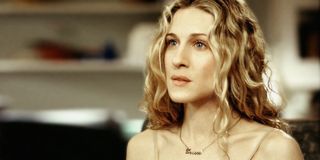 Sarah Jessica Parker, the actress who embodied the beloved dating and sex columnist Carrie Bradshaw in the highly successful HBO comedy series Sex and the City, may be making a return to her former network HBO. While neither a sequel nor prequel (which is nice for a change), Parker's new project doesn't sound too far off from the world she once inhabited in SATC.
The title of the potential series, currently just in the pilot stages with HBO, is Divorce. It is a half-hour comedy revolving around a couple's seemingly never-ending divorce process. According to Variety, Parker will play one-half of that couple, Frances, a woman now free from her marriage who quickly begins to see the many difficulties that arise when attempting to start over.
Divorce will be executive produced by Parker and will co-star Thomas Haden Church as her onscreen hubby Robert, who finds himself surprised by his wife's view of their union. Molly Shannon and Talia Balsam are also set to appear as Parker's closest friends; Diane (Shannon), a stressed out woman with no children who lives in a very nice house with her successful husband, and Dallas (Balsam), who's not only widowed, but also divorced.
Divorce has all the makings of an HBO hit. It was written by the multi-talented writer/actor/producer Sharon Horgan (Imagine Me & You, Pulling) and Paul Simms, the latter of which has had a long history writing comedy for HBO with credits including Girls, Flight of the Conchords and The Larry Sanders Show. Simms' fellow Girls collaborator Jesse Peretz, who has directed on a handful of very successful shows, is set to helm the pilot episode. The above-mentioned talent working behind the cam, combined with Parker's rate of success and prior relationship, makes this sound like a shoo-in. Throw in the talents of Church, Shannon and Balsam, and you can't lose.
There is no word yet as to when we should expect to see Divorce, but my guess is, this one will get the green light pretty quickly. If not, we may still be seeing Parker in another installment of the Sex and the City films. At least that's what Jennifer Hudson reportedly said a few months ago. I don't know how Carrie and the gals - Samantha Jones, Charlotte York and Miranda Hobbes - could ever top Abu Dhabi. Time will tell, I guess.
Sarah Jessica Parker may be hitting the small screen for a true crime show in the near future. She can also be seen in her upcoming film All Roads Lead to Rome, expected to hit theaters later this year.
Your Daily Blend of Entertainment News