Rachel's Gay Dads On Glee Finally Revealed!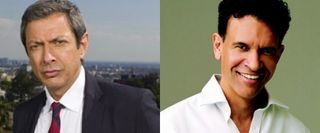 From the moment Glee's Rachel Berry announced she had two fathers, the possibilities for guest stars seemed endless-- particularly among Broadway fans, who saw the show bringing the likes of Matthew Morrison and Kristen Chenoweth and were thrilled at the idea of their favorite stage actors coming to TV. They're dragged out the identity of Rachel's dads forever, even revealing her biological birth mom (Idina Menzel) in the process, but now the time has finally come. TV Line reports that Rachel's dads will be revealed on the Valentine's Day episode this year, and they will be played by Brian Stokes Mitchell and Jeff Goldblum.
Odds are you know Goldblum much better of the two-- the star of The Fly, Jurassic Park and a billion other great things is known mostly as a movie actor, but he's done plenty of stage work and plays piano with a jazz band. Mitchell, on the other hand, is a Tony-winning Broadway performer with extensive experience in TV already. Though Rachel obviously got her God-given singing talents elsewhere, I imagine it's Michell's dad who imbued her with her love of Broadway, and maybe Goldblum gave her her oddball streak.
The two will appear-- and yes, sing-- in the February 14 episode, which is titled "Heart." The Broadway and film nerds who are excited to see this duo on Glee might be a little different from the usual audience that turns out for Lady Gaga tribute episodes, but this move seems far more in tune with the original Glee spirit than much of anything else they've done lately. Even though I don't really watch the show anymore, I can't wait to see Mitchell and Goldblum show up.
Staff Writer at CinemaBlend
Your Daily Blend of Entertainment News
Thank you for signing up to CinemaBlend. You will receive a verification email shortly.
There was a problem. Please refresh the page and try again.