Raising Hope Season 4: A Look Back And A Look Ahead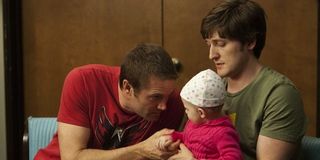 Greg Garcia may have moved on to an overall deal with CBS, but his previous project, Raising Hope hasn't gone anywhere. Sure, the series has been given a weirdly strategic November release date, long after most fall shows earned a premiere; however, an early look at the first few episodes tells us Raising Hope has not lost its touch for oddly specific pop culture humor.
A lot of big changes occurred for the cast last season. Namely, I expect most fans believed Raising Hope would milk the "will they or won't they" potential of Jimmy and Sabrina for years and years before finally deciding whether or not they had any true potential together. This didn't turn out to be the case. While Hope almost became a TV star, Burt and Virginia got up to random schemes and Maw Maw found her way into and out of an elderly care institution, Jimmy and Sabrina settled a few things about their relationship, getting engaged and then married in a few short episodes.
The pace at which the series moved the plot forward would have felt weird and out of place on most shows, but Raising Hope usually has a few event episodes every so often. After all, Season 2 closed with a crazy two-parter that featured Nancy Grace and delved into the truth about Jimmy's relationship with the serial killer Lucy Carlisle that ended with our lead gaining custody of Hope. Then, Season 3 featured the wedding and honeymoon episodes featuring Jimmy, Sabrina, and co. I'm not sure that Season 4 could top either of those momentous occasions, but in the first few episodes, the series doesn't try.
Fox has put together a short segment in which we hear from the cast members. There's a lot about the cast members discussing how they can't believe the series has been running so long. (They do know it's only Season 4, right?). Regardless, actress Martha Plimpton hits on a pretty key point that does come to focus early on in Season 4.
In the video, Plimpton discusses how we know a lot about Jimmy and Maw Maw. We know some about Burt's background and a lot more than we probably need to know about Sabrina's unlikeable family. What we don't get to hear all that much about is Virginia's family. However, all of that changes at the beginning of the season, when a mysterious figure known as Déjà vu Man pops into the picture. All you need to know is that he's tied to Virginia's past, though she doesn't know it, and he is played by none other than Jeffrey Tambor of Arrested Development fame.
The thing I really enjoy about Raising Hope—especially during this season's introductory episode—is that fans can drop in whenever they would like without missing too much. While it's helpful to watch each episode to get in on the most self-referential jokes, Raising Hope has always nodded at pop culture and current events while still telling a story that is hinged on simple lessons about family. It's witty and it's extremely weird, but I find the comedy more compelling because of it. Plus, if you aren't familiar with the background of the series, the opening scene in Season 4 features one of side character Shelley's signature songs that tell the tale of how Jimmy Chance knocked up a serial killer and was later left to raise the baby on his own.
In the meantime, here's a scene from an early Season 4 episode, in which Burt and Virginia argue over a barter system they've created. It might not be as good as the real thing, but on the bright side, you can start seeing full episodes of this underrated and wonderful series beginning on Friday November 15 at 9 PM EST on FOX.
Your Daily Blend of Entertainment News
Reality TV fan with a pinch of Disney fairy dust thrown in. Theme park junkie. If you've created a rom-com I've probably watched it.