Raul Esparza Joins NBC's Hannibal As Dr. Chilton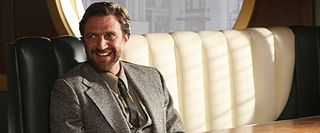 NBC's mid-season entry Hannibal is adding another former Pushing Daisies actor to the cast. Raul Esparza, who appeared in a couple of episodes of Bryan Fuller's previous series, will be taking on a pivotal role in the upcoming series about The Silence of the Lambs killer Hannibal Lecter, and will appear in at least two episodes.
Esparza is set to play Dr. Chilton, according to TVLine, an important character in the Hannibal Lecter saga who appears in both The Silence of the Lambs and in Red Dragon where he was played by Anthony Heald. The role was previously played by Benjamin Hendrickson in Manhunter, an earlier film version of Red Dragon. Chilton is the head of the insane asylum where Hannibal Lecter is kept captive, the man in charge of ensuring he stays there – obviously ineffectively. Esparza comes to the new series off a stint on Law & Order: SVU.
Hannibal is a prequel to Red Dragon, drawing characters from the original book and focusing on the relationship between the infamous serial killer and the FBI agent to whom he is a mentor. Mads Mikkelsen will be playing the role made famous by Anthony Hopkins, and FBI agent Will Graham will be played by Hugh Dancy. The series, which is expected to premiere midseason, also stars former Pushing Daisies actress Ellen Greene and Molly Shannon who did a guest spot on that series. Also on board is Caroline Dhavernas, who starred in another Fuller project, the short-lived Wonderfalls, a show I personally really enjoyed. We'll let you know when Hannibal gets a premiere date.
Your Daily Blend of Entertainment News