ReelzChannel Adds More Programming, Including Meg Tilly Series Bomb Girls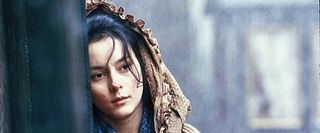 ReelzChannel is continuing to add to its original programming with three more announced today; a biblical mini-series, a docu-series set in a Beverly Hills pawn shop, and a scripted series set in the World War II era starring Meg Tilly. The new programming will join the previously announced mini-series, Ken Follett's World Without End.
Deadline says that ReelzChannel has picked up Barabbas, a four-part mini-series that will follow the life of the biblical criminal who was freed by Pontius Pilate when he sent Jesus to be crucified. It's based on the Pulitzer-winning novel by Par Lagerkvist, and picks up right after Barabbas brief appearance in the Bible.
Next up is a docu-series, Beverly Hills Pawn that in accordance with its name takes place in a pawn shop in California's ritzy Beverly Hills. The shop's owner, Yossi Dina, is a shrewd ex-army captain who offers huge loans to the rich and famous when they find themselves struggling for cash. What kind of amazing things get traded in for a quick cash loan in this pawn shop has to be fascinating; almost as much as which residents of the 90210 zip code show up each episode to pawn their bling.
Finally, there's Bomb Girls, a scripted series that takes place during the second world war. The series looks at the ways in which women's lives and roles changed during the war years as they left the home and went to work in munitions factories. Meg Tilly, Jodi Balfour, Peter Outerbridge and Sebastian Pigott star in this pre-Mad Men era look at how women left the home and supported the war effort, changing their lives forever.
Your Daily Blend of Entertainment News
Thank you for signing up to CinemaBlend. You will receive a verification email shortly.
There was a problem. Please refresh the page and try again.