Rescue Me's Steven Pasquale Cast In USA Over/Under Pilot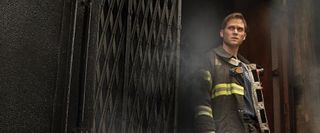 With Rescue Me airing its final season later this year, that puts Steven Pasquale on the market for a new series and word is, he's been tapped to star in a USA pilot called Over/Under.
Deadline got the exclusive on the story, stating that Pasquale, who plays the sweet but not entirely bright Garrity on FX's Rescue Me, has been cast in the lead in the hour-long USA pilot. The show follows Paul, a day-trader with a gambling problem. After getting fired from his job after a bad trade costs his firm millions, Paul and his family move to Brooklyn where he and Anthony Carrigan's character Marino start a high-end bookie business.
I'm interested in learning more about this series if USA ends up giving it an order. The role sounds interesting enough and I have an easy time picturing Pasquale suited up, despite being used to him in either casual attire or his fire-fighting gear on Rescue Me. As Garrity's probably my favorite character on the FX drama, I'm hoping this show goes to series so we can see more of Pasquale on the small screen.
Your Daily Blend of Entertainment News
Thank you for signing up to CinemaBlend. You will receive a verification email shortly.
There was a problem. Please refresh the page and try again.