Ryan Seacrest Starting A Reality Dance Show For E!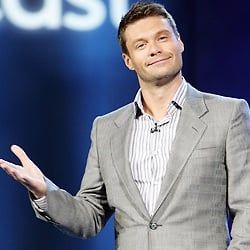 Much of the chatter around the most recent season of American Idol was about the fact that, well, no one was really chattering about it at all. The crowning of Lee DeWyze as the newest Idol was met with a whimper or a shrug of indifference from nearly everyone, and with Simon Cowell departing the show he helped define, speculation abounds that the TV powerhouse may be entering its twilight years.
But Ryan Seacrest, the show's host, hasn't become a multimedia mogul by playing dumb (no matter what kind of cracks you want to make about his hair). He's got an entire TV producing gig on the side, responsible for E! reality TV staples like Keeping Up with the Kardashians and Denise RIchards: It's Complicated. Now he's teaming back up with the network to add a little dance; THR reports that Seacrest, E! and Lady Gaga choreographer Laurie Ann Gibson are developing a dance reality show, about dancers and choreographers living in Los Angeles. They're still working out the details but it doesn't seem that the show will be a Dancing With the Stars type competition, but more of a "cameras following people around" kind of thing like Kardashians.
Given that he's not a dancer and plenty busy on his own, Seacrest won't have much of a role on the show, I'd imagine, but will help run things from the background. I actually like guy as another ubiquitous Dick Clark figure for our era, and if this is what it takes for him to stay afloat after Idol inevitably sinks, more power to him for seeing the writing on the wall.
Your Daily Blend of Entertainment News
Staff Writer at CinemaBlend