Samantha Harris Leaves DWTS for ET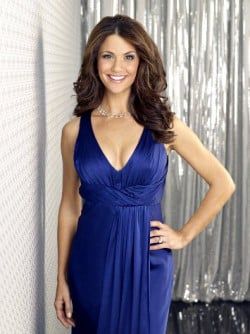 For several years, Samantha Harris' buffoonery has been one of the more enjoyable aspects of ABC's Dancing with the Stars. Each season, I marveled that she continued to have a job there, but she was pretty good looking ... so there's that. Apparently, she wants to focus on her correspondent work over at The Insider and Entertainment Tonight, as reported on Reality Blurred.
I guess, if you think about it, it's a smart career move. After all, Dancing with the Stars is clearly a show no one is watching anymore, while anyone who cares at all about journalistic integrity and hard-hitting news always looks to ET and The Insider. Brian Williams better watch out, or we might soon be seeing the NBC Nightly News with Samantha Harris.
Harris has been with The Insider since 2008, but more recently secured a gig at the weekend edition of Entertainment Tonight, which she has apparently dreamed about working on since she interned there at 15 years old.
Let's tie this in with the reported $1 million ABC has offered Paula Abdul as part of a development deal. The deal leaves her open to judge with Simon Cowell on the forthcoming US edition of The X-Factor, but has the caveat that she must agree to appear in the upcoming season of Dancing with the Stars.
The Abdul news broke just before this Harris news, and nobody is talking about what role she might play on the reality show. She could appear as a judge on the panel, a contestant -- she's expressed interest in years past -- and now she could easily replace Harris. She can even be as awkward and weird with the contestants as Harris became known for. For now, we can only wait, speculate and imagine what the future holds for the show.
Your Daily Blend of Entertainment News
Your Daily Blend of Entertainment News
Thank you for signing up to CinemaBlend. You will receive a verification email shortly.
There was a problem. Please refresh the page and try again.