Sarah Wynter Joins Californication For Season 6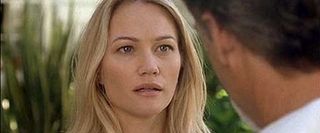 Showtime's Californication has tapped former 24 actress Sarah Wynter to play a recurring role on the upcoming sixth season. She's set to play the wife of another Aussie, Tim Minchin, who has been cast as a rock star taking on the task of putting Hank Moody's work to music for the stage.
Wynter, who has recently appeared on Damages, Army Wives, and Person of Interest, is probably best known for her role in season two of 24 where she helped Jack Bauer investigate her father''s company for terrorist connections.
Her Californication role will be as wife to Atticus Fetch (Tim Minchin), says Deadline. Fetch is described as a mix of Bono, Bowie and John Lennon, and he's in charge of writing the music for A Crazy Little Thing Called Love, the book written by David Duchovny's character Hank Moody that became a romantic comedy and is now being turned into a Broadway musical. Broadway and Hank Moody: now there's an interesting mix.
It's always interesting when a new female character is added to Californication, mainly because of the ever-looming question of whether or not said lady will be able to resist Hank Moody's charms. His luck with the ladies is nearly legendary, although it seems to get him into more trouble than it's worth most of the time. Is Hank set to seduce the wife of a rock star? Sarah Wynter certainly fits Hank's type – in fact she kind of resembles Natasha McElhone, who plays Hank's ex-wife.
Season 6 of Californication is expected to premiere in January of 2013.
Your Daily Blend of Entertainment News
Thank you for signing up to CinemaBlend. You will receive a verification email shortly.
There was a problem. Please refresh the page and try again.