Saturday Night Live Lines Up John Goodman, Paul Rudd, Justin Timberlake And Jimmy Fallon For December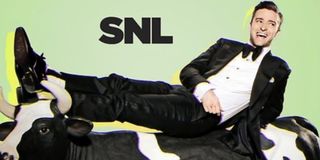 Saturday Night Live in December isn't for amateurs. While we've seen a few novices host SNL this month, with Hunger Games: Catching Fire's Josh Hutcherson next on the list to make his hosting debut, Saturday Night Live is bringing in some veterans to host the December episodes, including Paul Rudd, who's taking his third turn, John Goodman, who's about to make it a baker's dozen, and Jimmy Fallon, who made a name for himself as a repertory player and "Weekend Update" host on the long-running sketch comedy series.
When we shared the promo for Hutcherson's episode, which airs this Saturday, I noted that we would probably be hearing an update from NBC on upcoming hosts soon, as SNL's well known for amping up the holiday cheer during the last month of the year. Sure enough, we have three new hosts lined up, and they're all men.
First up we have Paul Rudd, who returns for this third hosting gig on December 7, a couple of weeks ahead of the release of Anchorman 2: The Legend Continues (due in theaters December 20). Rudd first hosted SNL in 2008 and then returned to host a December episode in 2010. One Direction will serve as the musical guest, marking their second appearance on SNL. Their first was in April 2012.
Next up, we have John Goodman, who will host the series for the 13th time on December 14. Goodman's latest claim to fame is a starring role in Amazon's recently released new original series Alpha House. (Watch the first three episodes of the new stream series here.) He's also set to appear in the 2013 Cannes Grand Priz winning film Inside Llewyn Davis. Hosting 13 times is a pretty impressive accomplishment, however it doesn't change Goodman's standings among the list of people who've hosted most. He still falls behind Alec Baldwin (16) and Steve Martin (15). Goodman's first appearance was on December 2, 1989, which would've been a year or so after ABC sitcom Roseanne debuted.
Kings of Leon will serve as the musical guest for Goodman's episode.
Finally, we have Jimmy Fallon, who has hosted just once before, but who has years of SNL experience under his belt, having starred in the sketch comedy series from 1998 to 2004 before moving on to host his own late night talk show. Things have worked out pretty well for Fallon in that department, especially considering he's poised to take over for Jay Leno next year. Fallon will be accompanied by Justin Timberlake, who's serving as the musical guest for the episode. And I doubt I'm alone in hoping we see some Timberlake, sketch-side in the episode, especially if it's music related. It's not as though Timberlake and Fallon aren't comfortable getting musical together on stage…
Your Daily Blend of Entertainment News
Thank you for signing up to CinemaBlend. You will receive a verification email shortly.
There was a problem. Please refresh the page and try again.