Saturday Night Live: Watch Dakota Johnson Join ISIS In Hilarious Fake TV Ad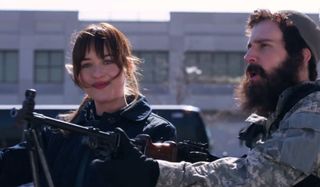 Saturday Night Live sure got people's attention when they announced that Fifty Shades of Grey star, Dakota Johnson was lined up to host the show. And boy did she deliver. Last night's show had its ups and downs, like most Saturday nights on NBC, but big comedic risks were taken, and as a result, this hilarious, fake TV ad has become the most talked about skit of the night.
The skit spoofs a Toyota Super Bowl commercial which followed a father dropping his daughter off at the airport as she heads off to the army. Of course, SNL decided to do their version of the advertisement just a little differently… and since they had a young actress who can perfectly play a semi-awkward teenager at their fingertips, seemed like it was prime opportunity to take the Toyota Camry for a spin. Oh and how great are the pairing of Taram Killam as the father, with Dakota Johnson playing his daughter? They are both incredibly goofy and over dramatic which make it that much better.
But it was the facial expressions that made it so good. First you have that Dakota Johnson wink. How does she make a wink look so darn cute? Normally they look so ridiculous, and while this wink was in a laughable moment (right after she says; "Dad, it's just ISIS"), it still a pretty talented wink if I do say so myself.
And Taran Killam's tears. Oh wow. What a heart-wrenching moment, to see daddy's baby girl off to destroy the world. It looks like he couldn't be more proud.
The whole interaction is pretty hilarious, and the turnaround, that the daughter is going off to join ISIS is funny because of how unexpected it is. The two banter in the car as the Killam has trouble letting go, insisting Johnson stay for "one more year of high school". But alas, the two part ways, and when Killam sobbingly states, "You take care of her", ISIS member (played by Kyle Mooney) nods, "Death to America", and while guns fire, the ISIS truck rides away with the voiceover disclaimer "ISIS. We'll take it from here, Dad".
The skit caused quite the uproar on social media, with many viewers upset over the controversial topic being taken so lightly. But, topics like these that are fresh in the news are prime source material for SNL. And this comes the same week that four Canadian and three British teenagers are believed to have run off to join the terrorist organization. Regardless of whether or not the skit came 'too soon', it's comedy, and the performance is pretty darn funny at that.
Your Daily Blend of Entertainment News
Your Daily Blend of Entertainment News
Thank you for signing up to CinemaBlend. You will receive a verification email shortly.
There was a problem. Please refresh the page and try again.