The One Thing Dakota Johnson Did 11 Times In Fifty Shades Of Grey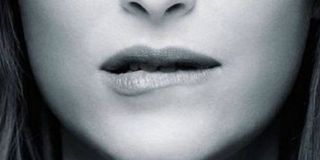 The Fifty Shades of Grey movie introduced mainstream audiences to a shit ton of freaky deaky BDSM kink. Although the movie did gangbusters at the box office, there were many — including the entire country of Malaysia — that denounced it. But despite all the risque content, there was one thing that I personally took issue with, something that actress Dakota Johnson apparently did 11 times over the course of the film: biting her lip.
The good people at Vulture not only sat through the film, but they also counted the number of times Johnson's Anastasia Steele performed this act. Spoiler alert: they mainly happened during sexually charged or frustrating moments. The first time we see this act is in the beginning as she's checking checking herself in the mirror. If you're like me, you probably missed it the first time around because you were thinking of Mean Girls. "You can only wear your hair in a ponytail once a week, Ana. So I guess you picked today."
We see her do this again after committing some odd biting and sucking movements with one of Christian's pencils. How inappropriate for a first meeting. And yet again when she's ogling photos of Christian on Google Images.
Some other notable instances occur just before Christian braids Anastasia's hair in the sex dungeon, when Christian steals a bite of her toast the morning after her drunken shenanigans, and just before he takes her virginity. The last time she bites her lip, which is apparently only her bottom lip, she and Christian are wearing Hanes V-neck t-shirts as her lover is playing some sad piano music. You can get the details on all the other times Johnson bit her lip at Vulture, if that sort of thing fascinates you. But you get the picture.
After watching the film myself, I remember turning to my friend and commenting on how forced Johnson's lip biting was. It was almost as if E.L. James and director Sam Taylor-Johnson told her she needed to incorporate this into her character. Granted, it's a part of the book: this tic is what sets her lover off into a sexual tizzy. But as Vulture pointed out, this is Kristen Stewart's move. She did it all the time throughout the Twilight movies, and the comparisons between those films and Fifty Shades were practically impossible to ignore.
It was cheap and cheesy tricks like this that critics bashed, but at the end of the day, it still topped the weekend box office and paved the way for two more sequels. So, apparently, some people bought into this.
Your Daily Blend of Entertainment News
Thank you for signing up to CinemaBlend. You will receive a verification email shortly.
There was a problem. Please refresh the page and try again.