See Wonder Woman In Action In Three Clips From The Cancelled Series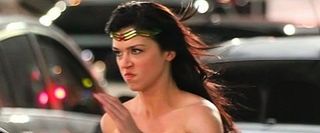 If you were at all interested in the now-cancelled Wonder Woman series, you can at least take a better look at what you would have been getting. Three clips have leaked online, and one of them is reasonably substantial.
The lengthy four-minute clip shows two separate action sequences, a chase scene, and a fight scene. It does include one brief look into the Wonder Woman character, and a rather well-chosen one at that in my opinion. Shortly after apprehending the target of the chase scene, the cops arrive and Wonder Woman is obviously not pleased about giving the man to the cops, saying that he will just "lawyer up." It's pretty normal to have friction between an action hero and the cops, but this is a bit more unique as they clearly don't treat her as an outlaw. Not to mention, lack of faith in the criminal justice system is an especially hot topic these days.
The action scenes are pretty over-the-top but not any more so than you're probably already used to for a comic-book hero. The other two clips are more candid and emotional in nature, and give a closer look at the Wonder Woman character. One features Wonder Woman in a women's business suit, walking out on what appears to be some sort of marketing team, upset with their portrayal of her. In the other short clip she is visiting what seems to be a friend in the hospital, but this bit is painfully out of context for the most part.
The show being cancelled doesn't come as a huge surprise. Live-action takes on classic comic-book heroes seem to be far more easily ported to the big screen. A Wonder Woman film is in development but isn't slated to appear for at least a few years. In any case I think the film route is probably the best one, particularly in financial terms. Networks are looking for shows that have potential not only to draw viewers, but to bring them back for future seasons -- something I think would have been very difficult for the Wonder Woman team to manage, regardless of how well they put together the first season or two.
Update: Looks like the clips have been pulled down. It was fun while it lasted!
Your Daily Blend of Entertainment News
Thank you for signing up to CinemaBlend. You will receive a verification email shortly.
There was a problem. Please refresh the page and try again.