Shark Week Preview Video With Andy Samberg Bares Lady Gaga's Teeth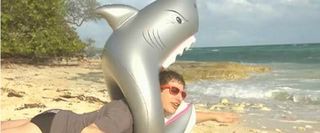 Great bits from comedians always remain rattling around in my brain and, in light of this post, I can't help but recall Ricky Gervais' TV watching habits of only The Discovery and History Channels, meaning that he knew everything there was to know about sharks and Nazis. Of course Gervais was exaggerating, that's not all these two great channels air... well, except for the former during Shark Week.
Twenty-four years ago, some dude at Discovery pitched the idea for a week invested in sharks. No rhyme or reason other than the fact that he thought sharks were cool. Well, guess what? Clearly he's not alone since the TV event is still swimming strong and even hired there first Chief Shark Officer in SNL's Andy Samberg. When asked to be the inaugural CSO, the comedian simply said,
And Samberg really does go for it because his hosting duties are only the half of it, he's also producing a one-hour special to close the week long affair called Shark City. Samberg's show will see him swim with a particular group of sharks living off the coast of Nassau in the Bahamas.
Here's the first look at Shark Week which uses Lady Gaga's "Teeth" to set the mood. How very apt (and a pretty good ad too).
Your Daily Blend of Entertainment News