Will Sharknado 2 Leave Out Tara Reid?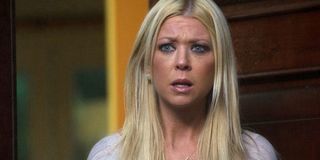 Say what you will about the SyFy Channel and the quality of their original movies, but they sure know how to keep us talking about their ridiculous films. Sharknado wasn't even that big of a hit when it premiered on the network a few weeks ago, bringing in below-average ratings for a SyFy original, but the buzz around it has been so deafening that the network immediately ordered a sequel. And they might not have told their star about it.
The rabble-rousers at TMZ floated the story that, while development on Sharknado 2 is well under way, but co-star Tara Reid won't be invited back. Reid and 90210 veteran Ian Ziering were the human leads of the film who survived long enough to star in the sequel-- and given that Ziering was the one chopping a shark in half with a chainsaw , he's obviously more critical to the sequel. For Reid's part, though, she's already denying the rumor on her Twitter page:
She also shared a tweet from The Asylum, the production company behind Sharknado, which claimed they would love nothing more than to see her return:
Reid and Ziering were both reportedly paid just $50,000 for the film, a ridiculously low rate that will certainly go up given the massive attention they've gotten for it. But the question seems less about how much Reid will be paid than whether she'll be worth the cost at all. The actress more famous for her hard-partying ways than any actual acting she's done was probably the most famous name in Sharknado before it aired, but now the film is a phenomenon on its own steam. The Asylum, notorious for their love of cutting corners, might be right in thinking they can replace Reid with another B-list blonde without anybody particularly noticing the difference .
With Sharknado now heading to theaters and SyFy soliciting sequel titles from fans, the Sharknado buzz shows no sign of dying down. If Reid and her agent are smart, they're using all this attention to negotiation a much bigger salary for the next time around… even though Syfy and Asylum are also smart enough to say they've fired her, make the debate public, and get away with paying her next to nothing anyway. Sometimes Hollywood negotiations are even uglier and more dangerous than a sharknado.
Staff Writer at CinemaBlend