Situation Looking Grim For NBC's Munsters Reboot Mockingbird Lane - UPDATED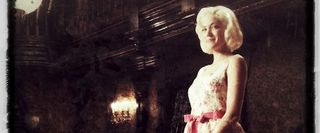 Every once in a while there's a pilot that's hyped up so much, you'd figure it would be a shoe-in to go to series. But nothing's set in stone until the green light is given. Mockingbird Lane seemed like it was on its way to series, but now it's looking like NBC won't be moving forward with the Munsters reboot.
Bryan Fuller's Munsters reboot has been in the works for quite a while now. And with each new detail and each bit of casting, it seemed more and more likely that we'd be seeing this on NBC's line-up, if not for 2012-2013, then for the next season. But Deadline is reporting that it's looking like NBC is planning to pass on Mockingbird Lane. The site specifies that no final decision has been made, so it's possible things will turn around before that happens, but right now, the situation doesn't sound good for the reboot.
The cast alone was enough to draw some buzz, with Jerry O'Connell set to play Herman Munster, Portia de Rossi cast as Lily Munster, and Eddie Izzard as Grandpa. Charity Wakefield was on board to play Marilyn Munster. From what Deadline says, the pilot, which focuses on a family of "monsters" is said to have an interesting visual style (not surprising given Fuller's involvement) but apparently something about the pilot "didn't quite work." If that's the case and NBC's choosing to pass, it's too bad, as it sounded interesting, and might have been a good fit next to NBC's Grimm, which also focuses on monsters and supernatural situations.
UPDATE. Bryan Fuller posted the following Tweet moments ago:
There is hope!