Smallville's Laura Vandervoort Looks Great As The New Supergirl Villain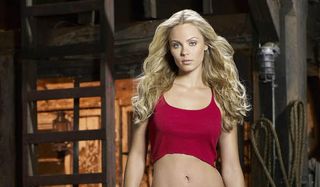 After taking down the Master Jailer this past Monday, Supergirl is pitting Kara Zor-El against another one of the Fort Rozz criminals. This time, her alien nemesis will be played by Laura Vandervoort, a.k.a. Smallville's Supergirl for three seasons. Although the preview for "Solitude" gave us quick glimpses at Vandervoort as Indigo, CBS has now released official stills giving us an up-close look at Supergirl's newest bad guy.
Let's get one thing out of the way: yes, Vandervoort's Inigo does look like Mystique from the X-Men movies. You can't help but draw that comparison with the blue skin and clothes, as well as the reddish hair. That aside, she does look cool in these action shots, although surely the post-production work will make her appearance more organic. The triangular symbol on her forehead also looks like the one Brainiac sometimes displays prominently on his own face. Since Indigo is a later version of Brainiac in the comics, it makes me wonder if the show is setting up up for an appearance, or at the very least a mention, assuming the DC movies don't have plans for the genius antagonist.
Appearance aside, the pictures (all of which you can see below) show Indigo breaking into a government facility and engaging with the soldiers inside. If you watched the preview, you know she's a skilled fighter (another thing she shares in common with Mystique), and something tells me normal bullets don't affect her. In the midst of Indigo's sinister activities, Supergirl flies in to fight her, following the traditional proceedings. If Indigo is as formidable as we're led to believe, then she'll give Kara a run for her money, leaving the Girl of Steel and her allies to track her down again, only that's going to be easier said than done.
In Supergirl, Indigo is a living supercomputer who was sentenced to Fort Rozz after turning against the people of Krypton. After escaping and making her way to National City, Indigo will use her abilities to cause chaos, including trying to launch a nuclear strike. In order to defeat her, Kara will need to travel with Jimmy to the Fortress of Solitude (Superman's Arctic hideout) to obtain the necessary knowledge. It's also worth noting that although Indigo looks like an alien in her physical form, she'll adopt a human-looking appearance while she's inside the Internet.
Supergirl airs Mondays at 8 p.m. EST on CBS (opens in new tab), and since Vandevoort's role is recurring, "Solitude" won't be the last we see of Indigo on the series.
Image 1 of 6
Your Daily Blend of Entertainment News
Connoisseur of Marvel, DC, Star Wars, John Wick, MonsterVerse and Doctor Who lore. He's aware he looks like Harry Potter and Clark Kent.