Smash Season 2 Review: More Drama, More Music And More Fantastic Voices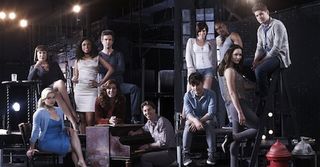 Smash is a classic example of a series that offered boatloads of potential in its pilot episode and then stumbled in its attempts to meet that potential throughout its first season. But the series is certainly not without its redeeming qualities, including an extraordinary cast with plenty of acting and musical talent to go around. Much in the way the show's featured Broadway musical Bombshell has had its struggles, so too has this series. But after watching the first two episodes of the returning musical drama, I'm hopeful that the series will find its way.
With redemption in mind, it seems particularly fitting that Smash's second season should pick up with the drama from the past coming back to haunt the characters, putting Bombshell at risk in the process. Though Bombshell's Boston run was well received in general, Julia (Debra Messing) received particularly negative reviews for her writing, plus she's still dealing with her struggling relationship with her husband Frank. Bombshell director Derek (Jack Davenport) is being accused of sexual harassment, which shouldn't come as a huge surprise when you consider his relationship with Ivy in Season 1 (though that was consensual.) Karen (Katharine McPhee) and Ivy's (Megan Hilty) feud is more icy than it is heated these days, but still relevant enough to the story to affect them, one more drastically than the other. And the future of Bombshell is shaky, at best, due to situations involving producer Eileen Rand (Anjelica Huston).
The first two hours feel a little like the series' way of flushing out some of the extra drama leftover from last season by laying it all out it front of itself and sorting through it piece by piece to figure out what needs to be resolved and what can be recycled or developed in the second season. And amidst the familiar faces are some newcomers, including the fantastic Jennifer Hudson, who plays Broadway star Veronica Moore and delivers some of the best musical performances featured in the first few episodes, in addition to playing a very believable musical vet and Tony award winner.
And speaking of musical veterans, while Jeremy Jordan is no stranger to the Broadway stage, his Smash character Jimmy Collins is just trying to get his start, living in Brooklyn and working alongside his friend Kyle Bishop (Andy Mientus) as they attempt to get their rock musical off the ground. Jordan is enormously talented vocally, but there's sort of a Rent-Roger angst coming off of him that I'm not sure I like. On paper, I would think his personality would make for some great chemistry opposite McPhee's sweet nature and positive outlook, but to be honest, from what we're shown in the first couple of episodes, I'm not sure it works yet.
What does work is a softer Ivy. With the first season leaving off with her in a very dark place, Season 2 sees her appearing poised for redemption and actually likable. Sure, she's been knocked down a peg or two, but she seems to have developed some humility, which isn't such a bad thing. Mixed with her talent, it's not difficult to want to see her find her own success, whatever that might be. Julia is also played up to be a bit more sympathetic, which is helpful considering the direction of her story last season, which involved her cheating on her husband, but I still find it difficult to support her. In general, I think I just like her better when she's working, and while we do see some of that in the first couple of episodes, a lot of her side of the story focuses on what's going on in her personal life, which isn't in the best shape.
And then there's Bombshell and its future in the series and on the series. One of the biggest benefits of the second season bringing in new characters with projects mostly unrelated to Bombshell is that it opens the door for new musical numbers that are unrelated to Marilyn Monroe. I liked the Marilyn emphasis last season, but going into the second season, I was concerned that the show would have to retread through a lot of familiar territory, both musically and in the plot, if it was going to continue forward with the Bombshell story. But with the newcomers comes new music, that's worked in between the Bombshell -related drama. It does take the attention away from the featured production, but it also adds some necessary variety, not to mention some excellent voices.
Looking at the first couple of episodes of the season, I'm choosing to feel optimistic that Smash is on its way up. In truth, while I admit that I didn't love the direction the series headed last season, I kept watching because I loved the music and I believed in the potential of a scripted TV show that focuses on the drama involved in making a Broadway musical. Season 2's premiere and the episode that follows give me hope that the show will find its footing with its story this season. In the meantime, beyond its potential, the talent among the cast, the drama that's already begun to unfold and the music are all reasons to continue watching.
Smash premieres with a two-hour episode Tuesday, February 5 at 9:00 p.m. ET on NBC.
Your Daily Blend of Entertainment News
Assistant Managing Editor
Kelly joined CinemaBlend as a freelance TV news writer in 2006 and went on to serve as the site's TV Editor before moving over to other roles on the site. At present, she's an Assistant Managing Editor who spends much of her time brainstorming and editing feature content on the site.