Spartacus: Gods Of The Arena DVD Trailer Includes Shirtless Men And Slow-Mo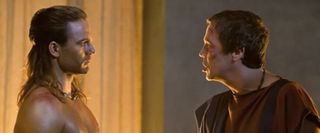 I was skeptical about Spartacus: Gods of the Arena when it was first announced. While doing a prequel to fill time while they dealt with the departure of series lead Andy Whitfield due to cancer was understandable, I was afraid it might wind up feeling exactly like that: a time-filler. Thankfully, showrunner Steven S. DeKnight and company managed to distill the core elements of the show -- deceit, violence, passion, and the duality of a gladiator's life as both celebrity and slave -- and mix that with an excuse to give us more of two of the show's most enjoyable characters: Batiatus (John Hannah) and his duplicitous wife, Lucretia (Lucy Lawless).
By exploring the days before Spartacus arrived and set in motion the downfall of the House of Batiatus, Gods of the Arena let us see a time when Batiatus' star was anything but on the rise. John Hannah is at his absolute best when being trampled upon by his "betters," so a series focusing on his desperate attempts to climb the social ladder, and his impotent rage when those schemes fail, is guaranteed gold. The show also shone the spotlight on some of the original series' supporting characters, allowing Manu Bennet and Peter Mensah to shine as Crixus and Oenomaus, respectively, alongside outstanding newcomers like Dustin Clare as champion gladiator Gannicus and Jaime Murray as Batiatus and Lucretia's fellow schemer (and bedmate), Gaia.
If you loved, Blood & Sand, there's no question you'll have a blast with the prequel. Here's the trailer for Spartacus: Gods of the Arena, which hits Blu-ray and DVD on September 13th.
Your Daily Blend of Entertainment News