Spartacus' Manu Bennett Made Series Regular For Arrow Season 2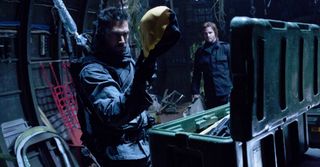 At this point, it's more than safe to say that Arrow is one of this season's success stories. It didn't take long for the CW's most recent comic-book inspired show to find a full first year order with the Season 2 renewal not far behind. And that means the next step is locking down cast members for the extended run. First, Emily Bett Rickard, who plays Felicity Smoak, was promoted to series regular followed by a similar deal for Colton Haynes, aka the Red Hood, and now Oliver Queen's island ally has also been upped to similar status for the second season.
That's right, we'll be seeing (at least some) more of Slade Wilson next year with THR reporting that Manu Bennett has been given the bump to series regular. Obviously, this is great news since the man also known as Deathstroke has been a great character so far, dishing out both insults and injuries, not to mention turning Oliver in the crime fighting machine he is in the present. Last night's episode alone, titled "The Huntress Returns," featured a few memorable moments including the mercenary making short work of about a dozen guys in the blink of an eye.
Of course, fans of Sparticus: War Of The Damned are quite familiar with Bennett kicking ass after watching him do it for years as Crixus on Steven S. DeKnight's blood and sex fuelled sword and sandal series. To see more of Bennett, here's a preview for this Friday's installment of Spartacus. It's the third to last of the finale season. Will Bennett's character make it out of War of the Damned alive? Who knows... Arrow returns with Episode 18, "Salvation," next Wednesday at 8 p.m. ET on The CW.
Your Daily Blend of Entertainment News
Thank you for signing up to CinemaBlend. You will receive a verification email shortly.
There was a problem. Please refresh the page and try again.