Starz Announces 2011 Comic Con Details For Torchwood Miracle Day And Spartacus Vengeance Panels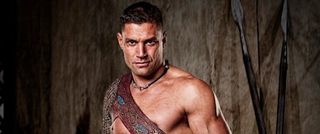 If you're planning on attending Comic-Con in San Diego this July and you're a fan of Torchwood and/or Spartacus, there's good news. Starz made the official announcement today that both series will have panels at the convention and there's an excellent list of talent lined up to appear.
I'll admit that if this news came around this time last year, I wouldn't have been nearly as excited. It was actually last year's Comic-Con that inspired me to give Spartacus: Blood and Sand a second chance. Prior to attending the convention, I'd only seen the first episode of Blood and Sand and had no interest in watching more. After hearing good things about the show at SDCC, I decided to give it another chance and sure enough, once the show got going and the characters' stories began to develop, I was hooked. The prequel series Gods of the Arena was also excellent and I can't wait to see how things resume when Vengeance premieres next year.
I expected Comic-Con to be a place to celebrate some of the shows I love, but it also turned out to be an opportunity to expand my geekiness. Needless to say, I was very excited to read Starz' announcement that Spartacus: Vengeance will have a panel at the con this year. The panel is scheduled for Friday, July 22nd at 5:45 p.m. in Room 6BCF.
Torchwood is another show I've only recently come to appreciate. The series is a spin-off of the popular British sci-fi series Doctor Who and will air for the first time on Starz for it's fourth season. (More on that here). Fans attending Comic Con this year are in for a treat as there will be a panel featuring the stars and writer Jane Espenson, as well an early screening of an episode of Miracle Day.
The Torchwood: Miracle Day panel will take place on Friday, July 22nd at 10am PT/Room 20:
Your Daily Blend of Entertainment News
Thank you for signing up to CinemaBlend. You will receive a verification email shortly.
There was a problem. Please refresh the page and try again.