The Strain Gets To The Heart Of The Matter With Its Latest Creepy Teaser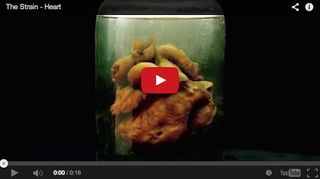 If FX's goal with these teasers for The Strain is to make us seriously uncomfortable, they're succeeding. The latest promo offers us a big jar of heart, which issues one pulsing beat before the roaring wormy thing arrives and fixes its face against the glass. I suppose that's less horrifying than watching it burrow into an eye... right?
And, if like me, one of your most uncomfortable sensations is that feeling you get while walking on a sidewalk covered in worms after a rainy day, just skip this next teaser, because yuck...
Shudder.
Based on a trilogy of novels by Guillermo del Toro and Chuck Hogan, The Strain comes from del Toro and Hogan, along with Carlton Cuse, and focuses on a mysterious viral outbreak "with all the hallmarks of an ancient and evil strain of vampirism." Corey Stoll plays Dr. Ephraim Goodweather, the head of the CDC Canary Team, which is called to investigate the matter in New York City, beginning with a bizarre incident on an airplane. As the strain spreads, Dr. Goodweather, his team and some regular New Yorkers face a war for the fate of humanity.
Also among the cast are David Bradley, Kevin Durand, Mia Maestro, Jonathan Hyde, Sean Astin and Francis Capra. FX has the sure-to-be creepy 13-episode first season of this drama set up on the schedule for Sunday, July 13. That's a shift from FX's usual weeknight strategy for original dramas, but it's summer, and The Strain feels like an event worthy of Sunday night viewing, I'd say.
By the time The Strain airs, FX's Fargo will have finished its run and new drama Tyrant will have made its Tuesday night debut (June 24). FX also has new comedies Married and You're the worst lined up to debut during the week following The Strain's creepy arrival.
Considering it's not yet June, we may still have a little while to wait before the cable channel finally gives us an actual trailer. But hopefully that's coming soon, and we'll be sure to share it when it does. In the meantime, these unnerving teasers and updates are doing a fine job of whetting our appetite for the horror-drama.