Suits Preview: USA Legal Dramedy Premieres In June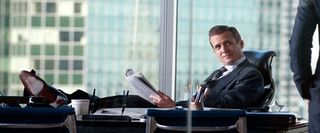 Surprise, surprise... Another brand new show is doing the promo rounds this week, this time it's USA Network's legal dramedy Suits. Using the searingly catchy logline, "Two Lawyers, One Degree," this legal procedural with a Good Will Hunting-esque twist surely can't miss. I mean, legal dramedies? We haven't got one of those since, like, every pilot season since the invention of the medium.
To be fair, there is something that might make Suits unique and give it a fighting chance. A big plus, in my mind, is that it's not produced by any of the four major networks since, without question, the best TV is being made any and everywhere else. AMC's The Killing instantly springs to mind as they've managed to take what seems to be another ordinary police procedural and instead deliver a slow-burning and realistic portrait of that Seattle community.
The USA network has also found frequent success with their (niche) original programming, dating all the way back to Monk and more recently with White Collar and Burn Notice. Since they've brought in Kevin Bray to direct the Suits pilot, a frequent director for both White Collar and Burn Notice they seem to be trying to replicate that winning formula.
So will Suits be just another courtroom drama or can USA follow the non-network mold and produce something seemingly original and maybe a little off the beaten path. Watch the clips and see if they're headed down the right one.
Suits stars Patrick J. Adams and Gabriel Macht as the aforementioned two lawyers (the latter being the one with the degree) plus it features Meghan Markle, Gina Torres, Rick Hoffman and Sarah Rafferty. Kevin Bray directed the pilot from a script by series creator Aaron Korsh. Suits, from Exec Producer Doug Liman, premieres on the USA Network on Thursday, June 23 at 10 p.m. ET.
Official Synopsis,
Your Daily Blend of Entertainment News
Thank you for signing up to CinemaBlend. You will receive a verification email shortly.
There was a problem. Please refresh the page and try again.