Summer TV Watch: USA's Pysch Is Worth A Look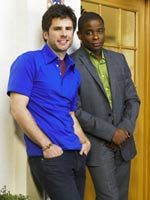 Because it's summer, it becomes somewhat difficult to find quality TV unless you're willing to watch a lot of reruns so I'm always on the lookout for new worth-watching TV shows. I think I may have found that with the show 'Psych'. The pilot episode of this dramedy aired on USA earlier this month and has re-aired numerous times since then but unfortunately it doesn't look like its going to be rerun anymore so here's the rundown on this show based on the first episode.
'Psych' is about a character named Shawn Spencer (played by James Roday). He appears to be in his early 30's (late 20s maybe) and is living it up as a bachelor. The episode starts with a flashback of Shawn as a boy in a diner with his father. He's got his eyes shut and he's describing the hats in the room. That's right, he's actually telling his dad which three people have hats on in the room and what the hats look like. After he successfully performs this seemingly psychic act, his father allows him to order dessert.
Cut to Shawn in his adult years, about to get it on with a beautiful woman. He happens to catch the TV news over the shoulder of the woman and notices the way the man being interviewed on the news is fidgeting with his hands. Shawn goes for the phone and calls the cops. He tells the police that the man being interviewed (who is a manager of a store that was just robbed) is the robber. Later when he shows up at the police department to collect his reward for helping to solve the crime, the cops attempt to arrest him, thinking he was part of the robbery. In order to get out of the arrest, Shawn uses his powers of observation to convince the police that he's a psychic.
It's pretty much then that we learn that Shawn is not a psychic, but merely trained to notice useful details about people and places that essentially help him to make accurate educated guesses. When Shawn's eye catches something, the camera zooms in and highlights it briefly, which gives viewers a clue of what he's thinking.
After convincing the cops that he's psychic (though to be fair, some of the police detectives are obviously skeptical of his "gifts"), they hire him to help solve a murder case.
The details of the case are fairly inconsequential seeing as the first episode is mainly an intro to the characters. Shawn's friend Burton Guster (aka "Gus" – played by Dulé Hill) is a pharmaceutical rep-slash-co-detective who tags along with Shawn. From the Pilot episode, it didn't seem like Gus served any more purpose than to occasionally drive a car and attempt to stop Shawn from doing something crazy. I expect/hope Gus' character will be developed a lot more in future episodes. The other main character in the show is Shawn's father, Henry Spencer (played by Corbin Bernsen). Shawn's father doesn't approve of how his son lives his life. He's even less impressed when he learns his son is not only acting as a private detective, but also impersonating a psychic.
The thing that makes 'Psych' worth watching is Shawn's quirky attitude. If you're familiar with the show 'House' then you have an idea of how fun a show can be when the main star is an arrogant a-hole who's strangely lovable. That's how I would describe Shawn Spencer. He's a guy whose been developing his skills since he was a boy and has surely been using them to get his way pretty much whenever he needs to. This has caused this (very handsome) guy to develop a supersized ego to go with his extraordinary talent for observation and guestimation.
Is 'Psych' this phenomenal show that you just have to see? No, I wouldn't say that. But its fun and it's the kind of show where each episode will probably have some new mystery for Spencer to unsolved which will keep the show (and the premise) fresh for at least a season.
Now that you've gotten caught up, check your listings for the upcoming episodes of 'Psych' on USA. The second episode is called "Spellingg Bee".
Assistant Managing Editor
Kelly joined CinemaBlend as a freelance TV news writer in 2006 and went on to serve as the site's TV Editor before moving over to other roles on the site. At present, she's an Assistant Managing Editor who spends much of her time brainstorming and editing feature content on the site.
Your Daily Blend of Entertainment News
Thank you for signing up to CinemaBlend. You will receive a verification email shortly.
There was a problem. Please refresh the page and try again.