Supergirl: First Look At Maxwell Lord And More Villains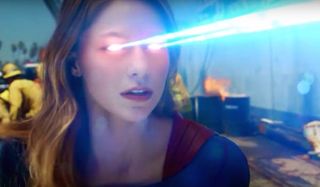 It's approximately a month to go until Supergirl airs on CBS, but before this week, all we've seen of the show so far is clips from the pilot. That's all changed now that the network has released new footage from later episodes, and in addition to seeing sights like Kara showing off new powers or her friend Winslow Schott finding out that Jimmy Olsen knows her secret too, we also get our first look at some of the villains she'll be battling throughout the season. Let's see who these new faces are.
Chief among the adversaries seen in this trailer is tech mogul Maxwell Lord, played by Peter Facinelli. On the surface, Max may seem like a normal billionaire businessman, but comic book fans know better. Although he helped form the Justice League International in the comics, his life took a dark turn when he gained mind control powers and was outed as a full-fledged villain in Infinite Crisis. While it hasn't been divulged whether he'll go down a similar path in Supergirl, given his mysterious "interest" in the Girl of Steel, it's a good bet he will. We also see him with his rival Cat Grant in the video, and later on Max is showing Cat's son Carter around what may be his company.
Next up is Reactron, one of the few comic book villains that Kara can call her own (rather than just share with her famous cousin). Played by Chris Browning, Reactron is able to generate radiation from his body after an accident while serving in the army. In order to stay alive, he was given a containment suit to wear at all times, but Reactron's appearance in Supergirl looks much more disheveled. It's almost as if he just put together a suit from random scraps he found. Maybe as the series goes on he'll star wearing a suit that looks more like the one from the comics. Still, you can tell by those energy blasts that he's going to be a tough opponent for Kara.
Finally, there's Hellgrammite, played by Justice Leak, who is the stuff of nightmares. We first see a military illustration of the freakish humanoid before we catch him in all his wide mouth, Predator-like glory. He's given a new meaning to the term "slack-jawed." Although Hellgrammite is a transformed entomologist in the comics, Supergirl's version of the character is said to be an alien that she'll be chasing. His main powers include super strength, super leaping, secreting adhesives and being able to entrap victims in cocoons to turn them into "larvae" versions of himself.
Those are the main bad guys that grace this preview, though other adversaries, from common criminals to aliens like Vartox also make quick appearances. You can watch the full trailer below to see more of what's to come on the superhero drama.
Supergirl (opens in new tab) will premiere on CBS on Monday, October 26 at 8:30 p.m. EST and move to its normal 8 p.m. timeslot on Monday, November 2.
Connoisseur of Marvel, DC, Star Wars, John Wick, MonsterVerse and Doctor Who lore. He's aware he looks like Harry Potter and Clark Kent.
Your Daily Blend of Entertainment News
Thank you for signing up to CinemaBlend. You will receive a verification email shortly.
There was a problem. Please refresh the page and try again.