T.I. And Terrence Howard Join Hawaii Five-0 For Special Season 3 Episode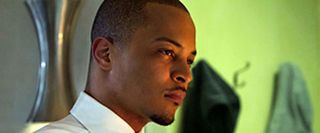 Rapper T.I. might be trying to mix crime with politics with a city government position on Boss' second season, but for his newest gig, he'll be getting his hands dirty more overtly. The rapper has been hired to play a young man involved with a crime syndicate in an upcoming episode of the popular CBS crime drama, Hawaii Five-0. More interestingly, the role will involve the actor in a case from Danny's past.
T.I. is headed over to Hawaii Five-0 in October, where he will guest star in a special episode of the beach-oriented procedural. TV Line is reporting that in the episode T.I. will be joined by Iron Man's Terrence Howard, who will also be involved with the crime syndicate. The episode will mostly be set in 2001, where Danny will be investigating the criminal crew with his former partner in New Jersey. T.I. and Howard's involvement in the case will be told through a series of flashbacks.
Some earlier episodes have shown us Danny's former Newark police partner was corrupt, but the series has not really had a chance to fully flesh out what this has meant for Danny. Undoubtedly, Hawaii Five-0 is looking to give us some more hints about Danny's life before he moved to Hawaii to be nearer his daughter. I'm almost as excited to see what the flashback episode illuminates as I am to see how T.I. does in a role opposite a big name like Howard.
This episode is clearly going to be a doozy, and if none of the former information impressed you, TV Line is also noting one of the famous younger daughters in the Kardashian clan, Kendall Jenner, will also appear in the episode. It might be worth tuning in to see if the youngster has an acting bone in her body, although I'm willing to bet the guest star won't really hold a candle to her competition.
Season 3 of the hit CBS procedural premieres on September 24 at 9 p.m. ET.
Your Daily Blend of Entertainment News
Thank you for signing up to CinemaBlend. You will receive a verification email shortly.
There was a problem. Please refresh the page and try again.