TBS Picks Up Reality Competition Series King Of The Nerds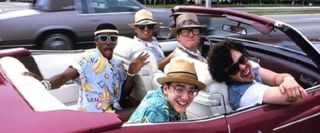 TBS has given the greenlight to a reality series like no other. This is no group of beautiful people confusing sex appeal for romance, or beating each other at ridiculous and disgusting stunts. No, King of the Nerds is a different reality competition – one that issues a challenge to all the brave, the proud, and the unapologetically nerdy people of the world.
The competition series, which has two stars of the classic comedy Revenge of the Nerds as co-hosts (Robert Carradine and Curtis Armstrong) will pit self-proclaimed nerds against one another in challenges requiring them to put intelligence and skills, ingenuity and in-depth pop culture knowledge to good use. No nerd will be left behind; the series invites anyone on the full nerd spectrum to step up to the plate. For you nerds, that is a sports reference. The ultimate goal? To be crowned as the nerdiest of the nerds, the master of the nerdy, the undisputed ruler of the nerd universe. It will start off as a team competition and eventually pit the remaining challengers against each other solo in search of the elusive nerd crown.
TBS is already home to successful nerd-centric The Big Bang Theory, another show that celebrates nerds, and feels the new reality show will complement the comedy. Says head of programming and executive VP at TBS, Michael Wright:
TBS has ordered eight episodes for a premiere in early 2013. Odds are good they'll be looking for their competitors soon, so if you believe you have what it takes to rule the nerds, perhaps you will get your chance to prove it.
Your Daily Blend of Entertainment News