TBS Secures 2 Broke Girls Syndication Rights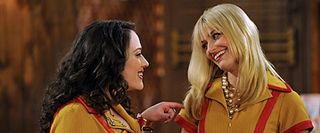 With just one completed season, CBS' 2 Broke Girls is still a bit young for syndication, but given its ratings success, it's unsurprising that another network might want to snatch up the rights to it. In a few years, those looking for regular airings of reruns of the female-skewed comedy series will likely be able to find them on TBS.
TBS announced today that they've landed the syndication rights to 2 Broke Girls. The Whitney Cummings-created comedy series debuted last fall and stars Kat Dennings and Beth Behrs as two waitresses (one streetwise, one sassy former-rich-girl) who dream of starting up a cupcake venture. While it's not exactly my cup of tea, comedy-wise, the series seems to be following in the tradition of other CBS comedies in securing solid ratings. The odds are, it'll make it to syndication, and when it does, it'll join fellow CBS comedy series (also from Warner Bros. Television) The Big Bang Theory over at TBS for its rerun territory.
Given TBS' growing line-up of original comedy series, which includes Men at Work and the upcoming Sullivan and Son, not to mention the other syndicated shows they play host to (TBBT, Seinfeld, The Office among others), the move to secure the rights to 2 Broke Girls seems like a wise and logical choice. 2 Broke Girls will begin its syndicated run over at TBS in 2015. In the meantime, the series is set to return to CBS with new episodes this fall.
Your Daily Blend of Entertainment News
Thank you for signing up to CinemaBlend. You will receive a verification email shortly.
There was a problem. Please refresh the page and try again.