TLC Cancels Kate Plus 8 But Hopes For Future Gosselin Specials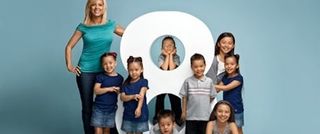 The popular TLC series, which started out as an unscripted show documenting two parents' attempts to manage more than half a dozen toddlers together, and later evolved into tabloid fodder, is coming to an end. I am of course referring to TLC's Kate Plus 8, which has officially been cancelled.
News of the cancellation was posted by Deadline today, which included TLC's statement on the matter. Kate +8 is the spin-off (sort of) to Jon & Kate +8, a reality TV show on TLC that follows Kate Gosselin and her eight children. The series was retitled after the well publicized split between Kate and her husband Jon. Kate +8 went on without Jon and has followed single-mom Kate as she tends to her children. The original show premiered in 2007 and after 150 episodes between J&K+8 and K+8, the series will wrap up for good on September 12th. And by "for good" I mean, as an official series. TLC did mention the hope that Kate and her kids would be featured "periodically with specials in the future." So, for those of you who are sad not to be able to see the Gosselin kids continue to grow up, there's a good chance TLC will be checking in with them at some point.
Not having ever been a regular viewer of the series, I can't say that I'm devastated to know that it's ending. If anything, I'd speculate that it'll be good for the Gosselin kids to get some time out of the spotlight. Between the TV show and the attention the family has gotten over Jon and Kate's separation, they're probably long overdue for a bit of normality.
Here's TLC's official statement:
Your Daily Blend of Entertainment News
Thank you for signing up to CinemaBlend. You will receive a verification email shortly.
There was a problem. Please refresh the page and try again.