TLC Wants More One Big Happy Family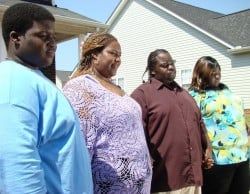 TLC has agreed to bring back their reality weight-loss program One Big Happy Family for a second season, as reported by Reuters. Premiering in December, the first six episodes introduced us to the Coles family. The family of four weighs in at a combined weight of more than 1,400 pounds, and makes a vow to change their lives.
The reason the series works is because of the positive spirit of the Coles themselves. While all four have a problem with their obesity, they also share an incredibly strong bond of familial love and support. It is that strength of character that makes them an inspiration to watch as they try and work toward achieving their own weight-loss goals.
TLC says the second season of twelve episodes should premiere sometime in June. I'd love to see the Coles become a family the network sticks with, and I'd love even more to see them all achieve their goals of developing and maintaining a healthy lifestyle. A struggle with weight is something most of American can relate to now. By offering us an inspiring and positive family of role models, perhaps we can find the inspiration to change our own lives and health for the better.
Your Daily Blend of Entertainment News
Your Daily Blend of Entertainment News
Thank you for signing up to CinemaBlend. You will receive a verification email shortly.
There was a problem. Please refresh the page and try again.