TV Recap: Army Wives - Casting Out The Net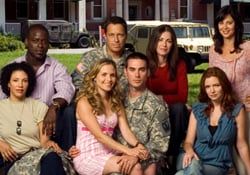 And the drama continues on Army Wives. Tonight's episode left us hanging on a number of story arcs. Putting aside Emmalin's new boyfriend, whom I totally don't trust, things aren't looking good for Joan and her baby and just when it seemed Getti was going to be out of the picture for good, a motorcycle accident put him back in the hospital – this time as a patient.
Claudia Joy talks to Michael about hearing that kids were buying drugs from soldiers on post. Michael says he'll take care of it and puts Joan and Evan on the task of finding the soldiers. They bust a bunch of guys for having drugs on their possession in their bunks. One of them is Jeremy, Denise's son. Jeremy swears to his mom that he has nothing to do with drugs and doesn't know what's going on. He asks her not to tell his dad about it.
Denise, who called in sick for a few days after the kiss with Getti, confesses to Claudia Joy about what happened and ever the perfect friend, Claudia Joy is supportive of Denise and essentially tells her things didn't go too far and they don't have to. Claudia Joy later urges Denise to tell Frank about what's going on with Jeremy. Denise waits a day and in that time, Getti tells her that he sees that she's unhappy since the kiss and he doesn't want to be the source of her unhappiness, so he's leaving. Denise eventually does tell Frank about Jeremy but all ends up fine and the charges are dropped.
As it turns out, Jeremy's bunkmate was the one dealing the drugs and he confessed after some persuasion from Joan. She leaned on the kid, explaining that Jeremy's well connected to high-ranking people on post and confessing might get him a more lenient sentence.
Towards the end of the episode, Denise gets a text from Getti asking her to meet him at Julep's for one last coffee. It looks like she's about to say yes but then Frank calls and says he's coming home. He realizes they're not connecting like they used to and he wants to make things right with her. Denise texts Getti back that she can't come. As she's leaving the hospital Getti's brought in on a gurney. He was in a motorcycle accident and it looks like he's in critical condition.
Roland convinces Roxie to get her GED. She's got so much going on in her life with the kids and Betty's but she decides to do it. Meanwhile, Trevor, who took a boring job working as Joan's driver while his arm heals, decides to spend his off-time putting together a spa-night for Roxie so that she can have some relaxing, happy, downtime. He works hard getting the night perfect but Roxie goes out for drinks with some of her classmates and finds Trevor asleep on the couch next to the romantically decorated dinner table. She's grateful that he tried and he's happy that she got to enjoy a post-class hangout since she missed out on that during her teen years.
Emmalin has her eye on an off-post high school boy named Quinn. She wants to hang out with him but Michael and Claudia Joy want to meet him first. They have Quinn over for dinner and the kid is perfect. Too perfect, if you ask me. He has all of these great answers about what he wants to do with his life after he graduates high school and he's totally polite. Emmalin, who is clearly going through her teen low-self-esteem phase, tells Roland that she feels like this guy is out of her league. Roland tells Emmalin the same thing Claudia Joy later tells her about her being a great girl and deserving of a great guy.
Emmalin sees Quinn on post when he was supposed to be off running errands for his mom. He's with some girl, holding her hand and looking very flirty with her. Quinn is upset by this and tells her mom, who suggests that maybe Quinn is just not ready to be serious with her. Claudia Joy is optimistic as always and this rubs off on Emmalin a bit. She talks to Quinn about it and he tells her that the girl is just an old friend. He smoothes things over by asking Emmalin to be his girlfriend. She says yes and they kiss. I totally don't trust this guy. He's a smooth talker and the way he was with that "friend" seemed a bit more friendly than it should have been.
Pamela was approached by a reporter who wanted to run a story on her so that people on post could know a bit more about it. This story arc didn't really go anywhere though. We didn't even get to hear what the article was about though I'm assuming it focused on Pamela's former cop-career and her life as a mom.
The episode ended with the Getti drama but we saw that in the previews last week so I wasn't too shocked to see that. What I was surprised by was Joan's pregnancy complications. When she and Roland were in Lamaze class, Joan felt a pain and then we saw that she was bleeding very badly. I'm hoping that things will be ok, though I wouldn't be surprised if these complications put her on bed-rest, forcing her to go on maternity leave earlier than expected.
Kelly joined CinemaBlend as a freelance TV news writer in 2006 and went on to serve as the site's TV Editor before moving over to other roles on the site. At present, she's an Assistant Managing Editor who spends much of her time brainstorming and editing feature content on the site.
Your Daily Blend of Entertainment News
Thank you for signing up to CinemaBlend. You will receive a verification email shortly.
There was a problem. Please refresh the page and try again.