TV Recap: Entourage - The Prince's Bride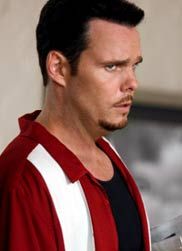 Just when Johnny Drama thinks he's hit the big time, reality swoops down and smacks him in the face. On tonight's episode of 'Entourage,' titled "The Prince's Bride,' Drama gets offered a role in Rush Hour 3, Vince finds someone to fund his movie but it costs him a price (one he's almost always willing to pay pretty easily) and Turtle gets a date with Kelly.
Turtle and Kelly arrange for him to come visit while her father is out. Just as Turtle arrives, her father comes home and the whole family sits around watching a movie together until Rufus falls asleep. The two sneak off and enjoy a meal while talking about what it will take for Turtle to get into Kelly's pants. Kelly tells him he'll have to take off his hat, for starters. Later she tells him she'll want to learn his name because it would be ridiculous to moan the name "Turtle" while they're getting it on. This girl seems to be walking a fine line with her suggestions. Either she's a total tease or she's just not willing to get it on with someone until she feels they've worked for it. Then again, her little brother (step-brother?) did imply that Kelly has given out certain handy little favors in the past so, who knows?
Drama gets a call from Lloyd letting him know that Brett Ratner wants to give him a part in Rush Hour 3. He brags about his gig at the TV set and they bust his chops a bit before breaking out a celebration cake. When he arrives at Ratner's house, the place is covered in models for some kind of bikini-related photo shoot. Ratner takes one look at Drama and tells his assistant that this isn't the guy he wanted. Apparently, he read the credits wrong on the episode of 'Five Towns,' and was really hoping to cast the 17-year old kid who co-stars with Drama.
Upon hearing this news, Drama that he's not leaving Ratner's place without a role in the movie. He spends some time getting a neck rub and swimming with the models until Ratner comes out and tells him to leave. Drama, knowing a bit about Ratner's history in filmmaking, uses flattery to get his way. He tells Ratner that he is inspired by how he never took no for an answer and insists on doing the same. Eventually, when the two are alone, Drama essentially begs Ratner for a part. He cant go back to the TV show and tell them that he didn't get it after everyone made such a big deal over it. He even says he'd be willing to pay his own way to Paris and do the role for free. Ratner realizes how sincerely desperate Drama is to get a role in the film and agrees
When Drama returns to the TV set, he approaches Tommy (the kid who Ratner wanted to cast) and tells him he put in a good word for him with Ratner. He also tells Tommy that if he does get a role, he can pay him back by paying for his plane ticket to Paris. The clueless kid is so appreciative of Drama that he eagerly agrees. Way to go, Drama!
Finally, Ari, Eric and Vince go to meet a guy named Yair and his wife Nika. They are Eastern European billionaires and very interested in financing the movie. During the first meeting, Vince feels like he's getting the "look" from Nika. A guy like Vince is usually very familiar with that look but Eric and Ari think he's exaggerating.
Nika invites Vince to meet her at a hotel for a "creative" meeting. She tells him to come alone but Vince is convinced that she wants to sleep with him so he brings Eric along to keep things business-like. Nika is annoyed that Eric is there so Vince casually mentions that he just wanted to make sure everything was "appropriate." She realizes what he's implying and tells him off, saying he has a big American ego for assuming she wanted to have sex with him.
Later, Yair calls Ari and says they're interested in financing the movie. He invites them over for dinner and presents them with the check. Nika is irritated by the whole thing and goes upstairs. Yair pulls Vince aside and says he knows what happened at the meeting. Vince is apologetic, assuming that Yair was offended for the same reason Nika claimed to be. As it turned out though, Vince was right about Nika's intentions. Yair tells Vince that what his wife wants, she gets and demands that Vince go upstairs and sleep with her while he, Eric and Ari play pool. How can Vince argue with that?
Hollywood is a weird place.
Kelly joined CinemaBlend as a freelance TV news writer in 2006 and went on to serve as the site's TV Editor before moving over to other roles on the site. At present, she's an Assistant Managing Editor who spends much of her time brainstorming and editing feature content on the site.
Your Daily Blend of Entertainment News
Thank you for signing up to CinemaBlend. You will receive a verification email shortly.
There was a problem. Please refresh the page and try again.