TV Review: The Hills - I'm A Slave For You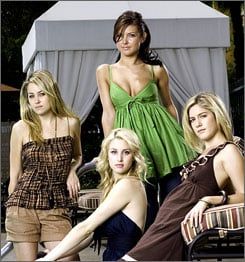 Congratulations are certainly in order for Whitney, who for the first time in 'Hills' history received her own storyline, even if it was about getting abused by some power-hungry photo shoot coordinator. The irony in the whole situation was quite overwhelming. Think about it. Whitney has always been the neglected fourth wheel of the 'Hills' quartet and her first moment of genuine airtime was about being the overworked, under-credited tragedy-case she's been for the past two seasons (and, apparently, the past five years – that résumé whore has got quite the internship experience). Even Whitney's inexperienced little sister Jade got the limelight over Whitney when she was invited to be in some kiddie Vogue shoot. All of those rolls of tape and pins and clothing tags finally got to Whitney who seemed nearly ready to declare her independence from her evil superior. In the end, though, I think Whitney saw the light. That is, she totally realized that she's the one who is a co-co-star on an MTV reality show, and her superior is, well, nothing more than an insignificant little guest star.
When Spencer asked Heidi to go to Santa Barbara with him she hesitated for about twenty seconds, pretending to care about making her precarious friendship with Lauren just a little more stable, before she naturally agreed. Watching the two lovers stroll the Santa Barbara beach reminded me of those fleeting images of a soon-to-be no-more Lauren and Jason basking in their summer beach house. The parallels really are undeniable. That's why when Spencer said to Heidi that Lauren would have definitely extended a vacation with Jason instead of running home to spend time with Heidi he was probably right. Whitney is getting her own storyline, Spencer is not completely wrong about something, Lauren is doing homework for fashion school (yes, she really was, when Heidi came into the apartment to tell her she'd be going to Santa Barbara, blink and you'll miss it). The 'Hills' firsts are just abounding. Soon Lisa Love will be working down in the intern basement with Lauren and Whitney.
Audrina stepped it up even more than she has in previous weeks in her (subconscious?) quest to become Lauren's new best friend when she set her up with a friend's roommate on a double date. Lauren refused to call it a double date, but Blake, the hockey player who made a good impression on Lauren (despite his glaring failure to get her number), was a little too obsessed with ordering his dessert (the metaphoric and the literal) for it to be just a, as Lauren and Audrina called it, "group thing."
The extended Santa Barbara excursion may not have hurt the already bruised Lauren-Heidi best friendship had Heidi, like she promised before leaving, showed up to the Lauren-Heidi bonding night, but Heidi, who didn't even have the decency to call Lauren, instead leaving a curt note, opted to go the movies with Spencer. Lauren had the perfect opportunity to prove to the world (though she didn't need to) that she would pick Heidi over a boy when Audrina called to make plans with Blake and Chris, and, sure enough, Lauren chose Heidi. The juxtaposed editing of Lauren sitting alone on the couch of her apartment and Heidi drooling over Spencer at the movies was deliciously effective – especially since Lauren and Jason went to the very same theatre (you know, that over-the-top LA-ridiculous one) just one season ago. Coincidence? I think not.
Your Daily Blend of Entertainment News