TV Review: Monk - Mr. Monk And The Man Who Shot Santa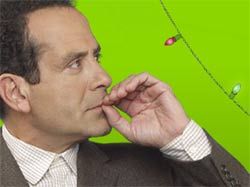 Monk - "Mr. Monk and the Man Who Shot Santa"
Creator: Andy Breckman
Starring: Tony Shalhoub, Traylor Howard, Ted Levine and Jason Gray-Stanford
Premieres: Friday, December 7, 2007 at 9:00 p.m. on USA
Spoiler Alert - This review contains some spoilers for Monk: "Mr. Monk and the Man Who Shot Santa."
The popular USA series, Monk might be on hiatus until January but that isn't stopping USA from airing a special holiday episode of the series this Friday. The episode, titled "Mr. Monk and the Man Who Shot Santa," delivers the usual brand of silly humor with a holiday twist as Monk tries to prove his innocence after being forced to shoot a guy dressed as Santa.
Monk's a weird guy. If you're a fan of the series then you already know that the grief over losing his wife caused his obsessive-compulsive disorder to get so bad that he was forced to leave his job as a homicide detective at the San Francisco Police Department and spend his days meeting with his therapist and working alongside his assistant Natalie as a private detective. This is the premise of Monk. Adrian Monk is a nice guy with, to put it mildly, some "quirks." This is not to say that we're meant to laugh at him for being different. Shalhoub's excellent portrayal of the character allows us to appreciate the humor in Monk's personality disorder, while at the same time, also see Adrian Monk as a good man with a brilliant knack for crime investigation.
This holiday episode is pretty much like any other episode of Monk in terms of the story. A crime happens and Monk is there to stop it. Except in this case, the Christmas-twist is that the man Monk suspects is a bad guy is a man who dresses up as Santa and wins over the public when he chucks a bunch of toys off a roof and into a crowded street. Monk, who is irritated by the law-breaking Santa (throwing toys into the middle of the street isn't exactly legal, I guess) goes to stop him and after a scuffle, the Santa ends up getting shot. As Monk and the Santa were the only two up on the roof, the media and the public immediately think that Monk is some kind of Scrooge for shooting Santa.
Naturally, Monk is extremely displeased by all of the bad press he's getting, which leads to people yelling at him wherever he goes. As he's not exactly good at dealing with people, he only manages to make the problem worse when he tries to get people to hear his side. His only way to fix things is to clear his name and figure out what that Santa was doing up on the roof in the first place.
When it comes to holiday-episodes for any series, I usually look for something a little bit more than what you'd find in an average episode. I'm not just talking about the presence of Christmas throughout the episode (holiday decorations, Christmas carols, Santa Claus, etc). Christmas is a time of family, of getting together with loved ones, exchanging gifts, sharing memories and all of that other touchy-feely stuff. I'm not sure that I can say that this episode of Monk really had enough of that.
The episode definitely provides a fair amount of holiday spirit and the whole "Monk shoots Santa" story fits the theme but I didn't feel that it was really all that different from any other episode in terms of the story. Nothing special happens to really celebrate the relationships between the characters as one might hope to see in a special holiday episode. For example, part of the fun of the show is seeing the dynamic of Monk and Natalie spark on screen. Their affection for each other as friends and coworkers is always present in every episode. Natalie understands that Monk has some issues and she knows when to cater to it and when to push back at him. As this was a holiday episode, it would've been nice to see a little more of the warmer side to their relationship. I felt like that opportunity was wasted here. Instead, the episode seemed to push more for laughs than for heart.
Rest assured though, if you're a Monk fan and you've been missing your favorite neurotic detective; you'll probably enjoy this episode very much. It's full of laughs and definitely worth watching, if only to see Monk throw down with Santa. I guess with all of the cheesy Christmas specials that are airing right now, I was looking for a something a little bit more memorable with this special holiday episode.
Your Daily Blend of Entertainment News
Assistant Managing Editor
Kelly joined CinemaBlend as a freelance TV news writer in 2006 and went on to serve as the site's TV Editor before moving over to other roles on the site. At present, she's an Assistant Managing Editor who spends much of her time brainstorming and editing feature content on the site.