TV Review: My Fake Fiance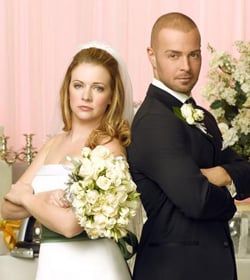 You have to admit, on the average, the bride and groom do usually score some great gifts and a lot of loot from their wedding guests, so the premise of ABC Family's new original movie My Fake Fiancé is pretty amusing in that respect. The film features Melissa Joan Hart as Jennifer, a woman who just bought her first place, dumping all of her savings into the down payment only to have all of her worldly possessions stolen from her. Meanwhile, Vince (Joey Lawrence) has a gambling problem and owes thousands of dollars to a man known as "The Monkey" (Steve Schirripa). After being seated together at a wedding, Vince and Jennifer decide they might be able to overcome their financial troubles by scamming gifts and money from their friends and relatives.
Both Vince and Jennifer are stuck in desperate situations and naturally, their predicaments call for desperate measures. So they team up to fake an engagement and a quickie wedding that will hopefully earn them oodles of cash to pay off Vince's debt and enough gifts to furnish Jennifer's empty condo. Of course, there's a catch. Vince and Jennifer aren't in love. They barely even like each other. But they're determined to go through with the arrangement, lying to their friends and families in the process. Sure, it sounds deceptive and this isn't something that goes unaddressed by either of them as they go through the charade of being engaged, but it comes off more as charming in that silly romantic comedy-esque way.
Part of the appeal of the movie for me, in addition to the amusing premise was the need to tickle my sense of nostalgia by seeing Blossom's Joey "Whoa!" Lawrence and Clarissa Explains It All's Melissa Joan Hart. Sure, they've both done other things both before and since those shows but I held both of these shows near and dear to my pre-teen heart back in the day, so I was eager to see what kind of chemistry Lawrence and Hart would have on screen together. Sure enough, they're as cute together as they are in anything else they've starred in. Hart plays Jennifer as a successful single woman who's usually good at reading people, while Lawrence is more of a down-on-his-luck gambling womanizer who takes more risks than he should but as they get to know each other throughout their fake-engagement, they both come to find that there's more to each other than they initially thought.
As The Monkey, Schirripa is a slightly altered variation of the usual role he plays. He's the big, charming Italian guy who, despite his willingness to see Vince get his bones broken if he doesn't pay up, is willing to give Vince more time to settle his account.
My Fake Fiance is fairly corny but it's cute and pretty much what you would expect in terms of the plot. Lawrence and Hart are adorable and although the movie is moderately predictable, it's a lot of fun and good if you're looking for something easy and fun on your Sunday night.
My Fake Fiancé
Starring: Melissa Joan Hart, Joey Lawrence, Steve Schirripa
Created By: Howard March
Premieres: Sunday, April 19, 2009 at 8:00 PM on ABC Family
Kelly joined CinemaBlend as a freelance TV news writer in 2006 and went on to serve as the site's TV Editor before moving over to other roles on the site. At present, she's an Assistant Managing Editor who spends much of her time brainstorming and editing feature content on the site.
Your Daily Blend of Entertainment News
Thank you for signing up to CinemaBlend. You will receive a verification email shortly.
There was a problem. Please refresh the page and try again.